Big congratulations are in order for Priyanka Chopra. Days after celebrating her first wedding anniversary with Nick Jonas, the superstar attended UNICEF's 15th annual Snowflake Ball in New York City. Priyanka was honored with the Danny Kaye Humanitarian award. It was presented to her by international designer Diane von Furstenberg and was followed by Priyanka acknowledging the award on the podium. Chopra is a global UNICEF ambassador for child rights and has been associated with the organisation for years now. In her Instagram post, Priyanka Chopra said, "I am in awe of the tireless efforts and unwavering commitment of the people who work for UNICEF. Thank you for allowing me to be part of this journey. To serve as your Goodwill Ambassador is the privilege of my life."
Along with her stirring words, it was also Priyanka's stunning red gown that turned heads at the event. She wore a single shouldered flowing red gown in a fitted mermaid cut. It featured a turtleneck and single full sleeve with an open back and a tie detail at the nape. Adding sparkle was a pair of dangling earrings. Her makeup look too hit the high notes at the prestigious function. It showcased full brows, sparkling champagne-toned eyes and a neutral matte lip. Her hair was worn in a sleek centre-parted low ponytail. Dare we say it was a red-letter day?
(Also Read: Meet Gino Jonas, The New Member Of Priyanka Chopra-Nick Jonas Family)
Priyanka cut a stunning figure in rouge to receive the honour; which we think is also perfectly timed with the holidays. It's a fantastic choice of colour to splash out in, whether you're going caroling or for an office party. Don't hold back when it comes to rocking red this season - we know exactly how to do it.
10 Red Dresses To Wear For The Holidays Like Priyanka Chopra
Take inspiration from Priyanka and go out all out this holiday season in these 10 red dresses.

(
102 ratings & 677 reviews
)

(
2,684 ratings & 14K+ reviews
)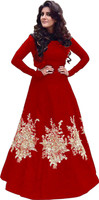 (
638 ratings & 2,685 reviews
)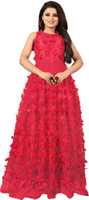 (
1,954 ratings & 10K+ reviews
)
(
313 ratings & 1,528 reviews
)
(
228 ratings & 1,215 reviews
)
(
103 ratings & 189 reviews
)
To browse more red dresses on Amazon and Flipkart respectively, click here and here.
It's the season where you can look right in rouge like Priyanka Chopra.
(Also Read: 4 Boots To Up Your Fall Fashion Game Like Priyanka Chopra)
Comments
Disclaimer: The Swirlster Picks team writes about stuff we think you'll like. Swirlster has affiliate partnerships, so we get a share of the revenue from your purchase.