Priyanka Chopra wasn't at the Oscars this year, which was a bit surprising because she's attended two years in a row and was in one of the video introductions when nominations were announced earlier this year. However, Priyanka was watching the Oscars like most of us and she's picked her favourite looks from the red carpet via an Instagram story. So who did she pick? She certainly had a range of options to choose from - unlike the sombre blackout at the Golden Globes, the red carpet at the Oscars were a riot of colour, with stars choosing to advocate Time's Up and Me Too through their words and actions rather than their wardrobe. The defining and most empowering moment of the Oscars came from Best Actress Frances McDormand, who asked every female nominee in the audience to stand and introduced the world to the phrase 'inclusion rider.'

Frances didn't even walk the red carpet - but she was the sole rebel. There were plenty of high-octane dresses for Priyanka Chopra to pick from, and between Jennifer Lawrence's metallic Dior gown and Emma Stone's silk Louis Vuitton pant-suit, many style goals were set. And since many of us love scrolling through red carpet pictures, whether or not we admit to it, we're thrilled that Priyanka Chopra has delivered her verdict. And why not? Good fashion is meant to be appreciated and who knows that better than someone whose own Oscar dress ended up on Google's most searched end-of-the-year list in 2016?

To begin with, Priyanka Chopra was sick during the Oscars. So we hope she was watching the show curled up in bed with a steaming mug of soup.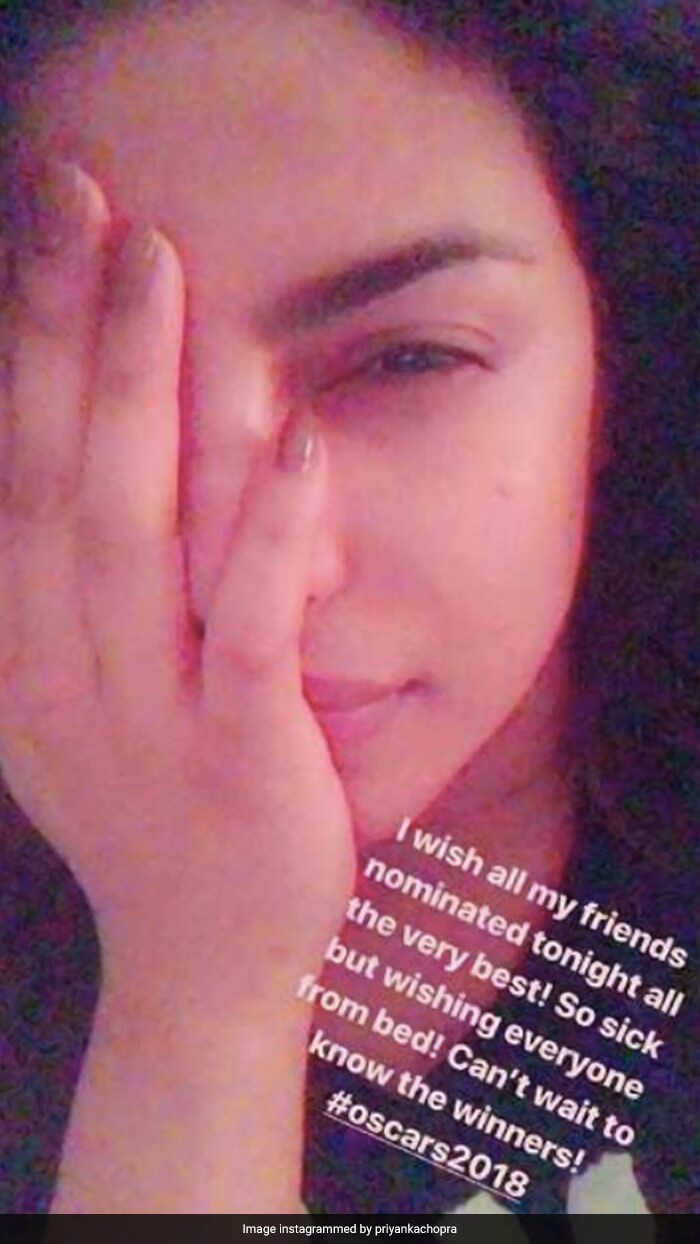 Her verdict? This right here.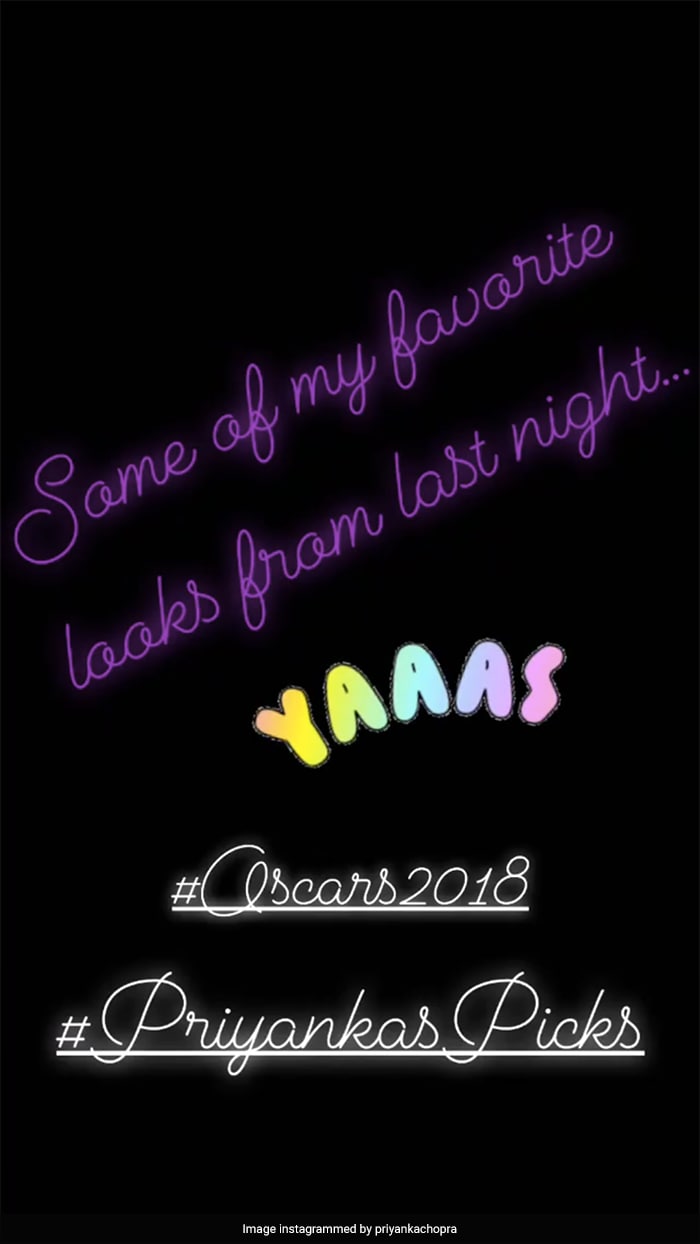 Making it to the top of Priyanka Chopra's fashion list was Lupita Nyong'o in her Black Panther-inspired 'Vibranium by Versace' gown, followed by Zendaya in chocolate brown chiffon by Giambattista Valli Couture.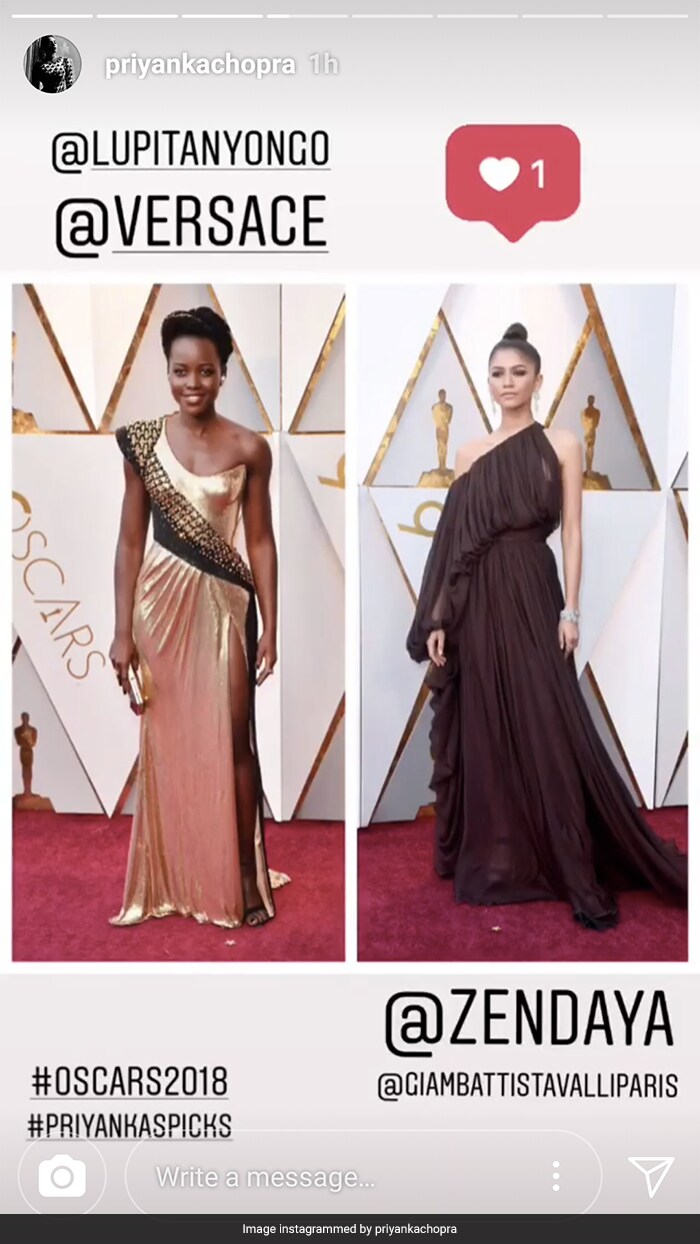 Then came Nicole Kidman in her cobalt blue Armani Prive dress, and Greta Gerwig in her yellow Rodarte dress. Now, we aren't all that sure about the merits of Greta's look, but oh well.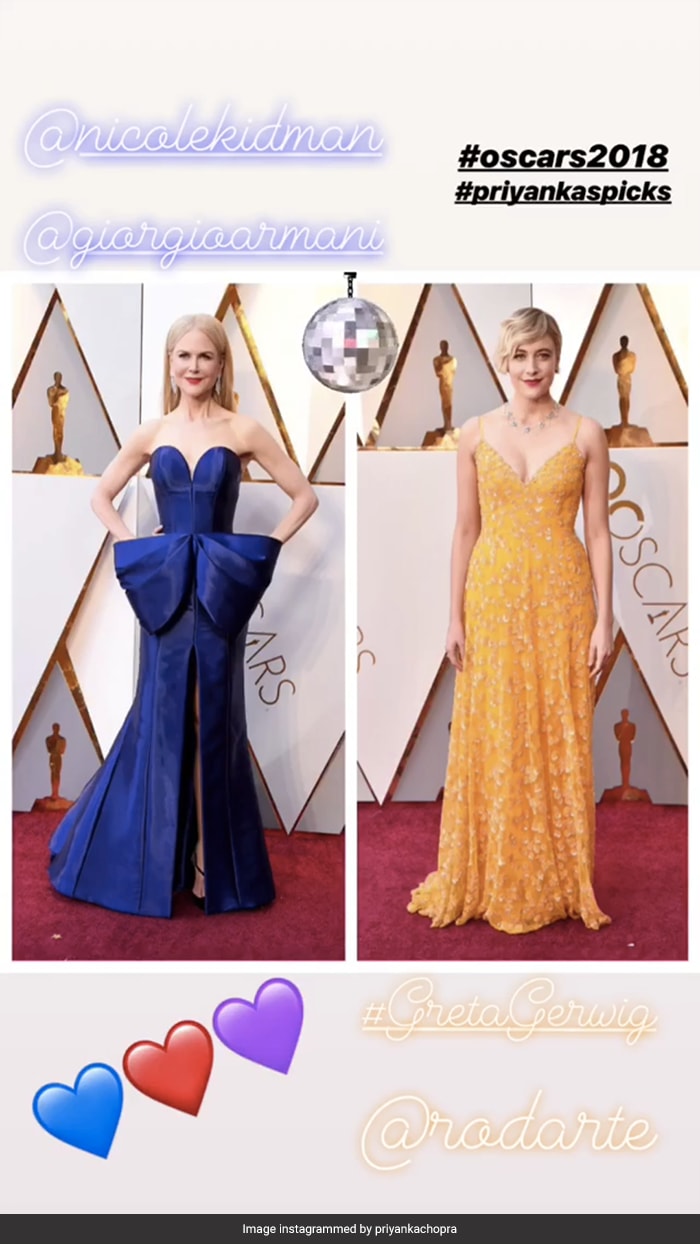 Actress Margot Robbie in her custom white Chanel dress also made it to Priyanka's list as did the white Alexandre Vauthier suit - dubbed 'cool' by Priyanka - that Naomi Campbell wore to the Vanity Fair after party. Fun fact - Margot Robbie sewed the strap of her dress back on herself after it snapped off at the Oscars.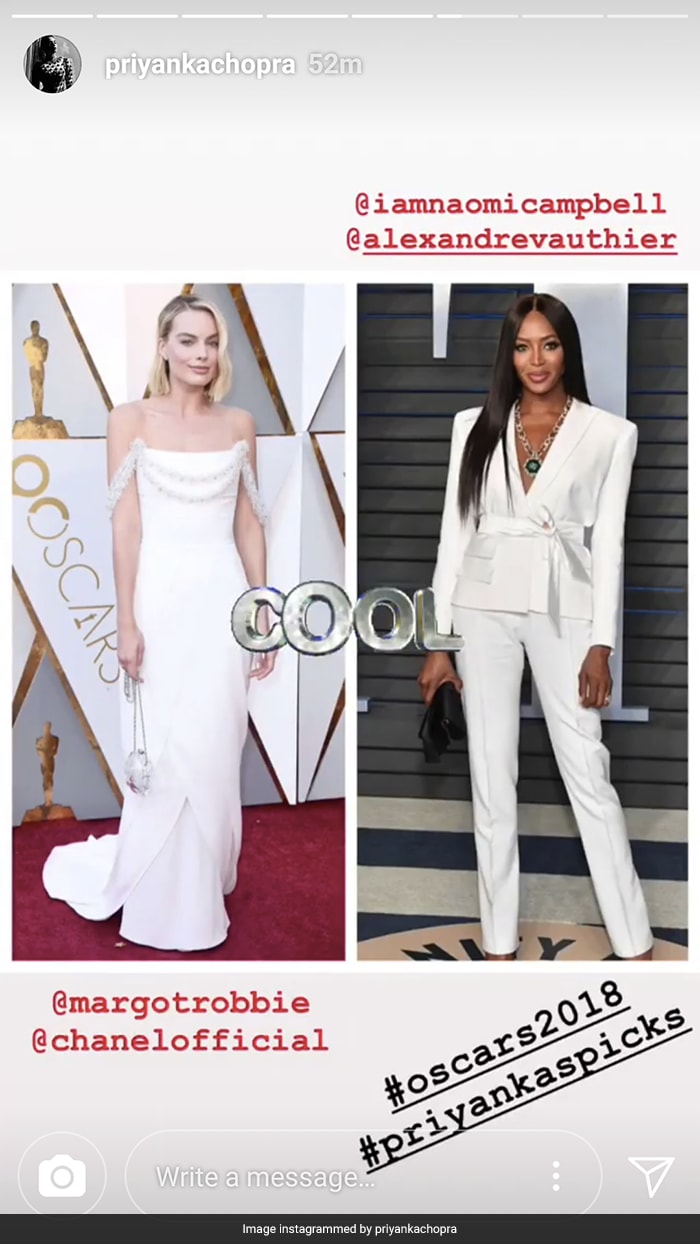 And then there was some metallic lovin' with Jennifer Lawrence and Ashley Graham's gold and grey gowns respectively. While JLaw wore Dior, as she does, Ashley attended the Vanity Fair party in a Rubin Singer gown and we loved both the looks.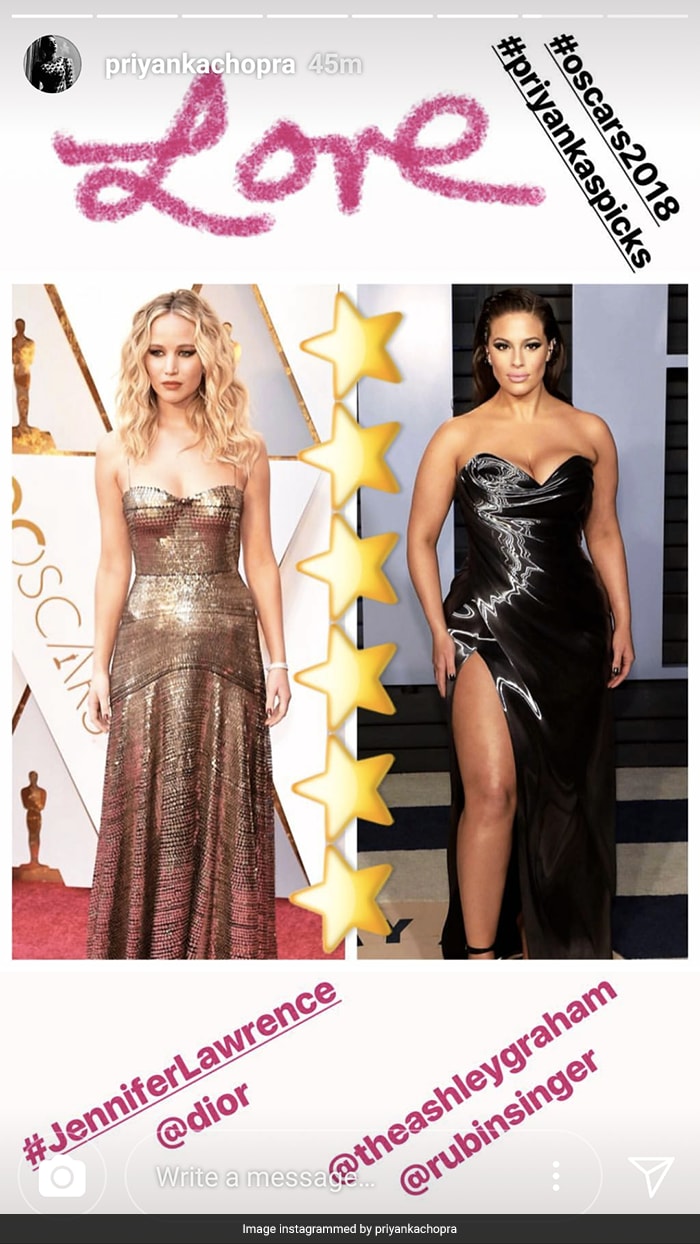 And then there were the men. Making the list were Jared Leto's striking yet casual choice at the Vanity Fair party and Best Actor nominee Timothee Chalamet's all white look on the red carpet. In a sea of black tuxedos, these two really stood out and how. Leto wore Gucci, and Timothee's suit was by Berluti.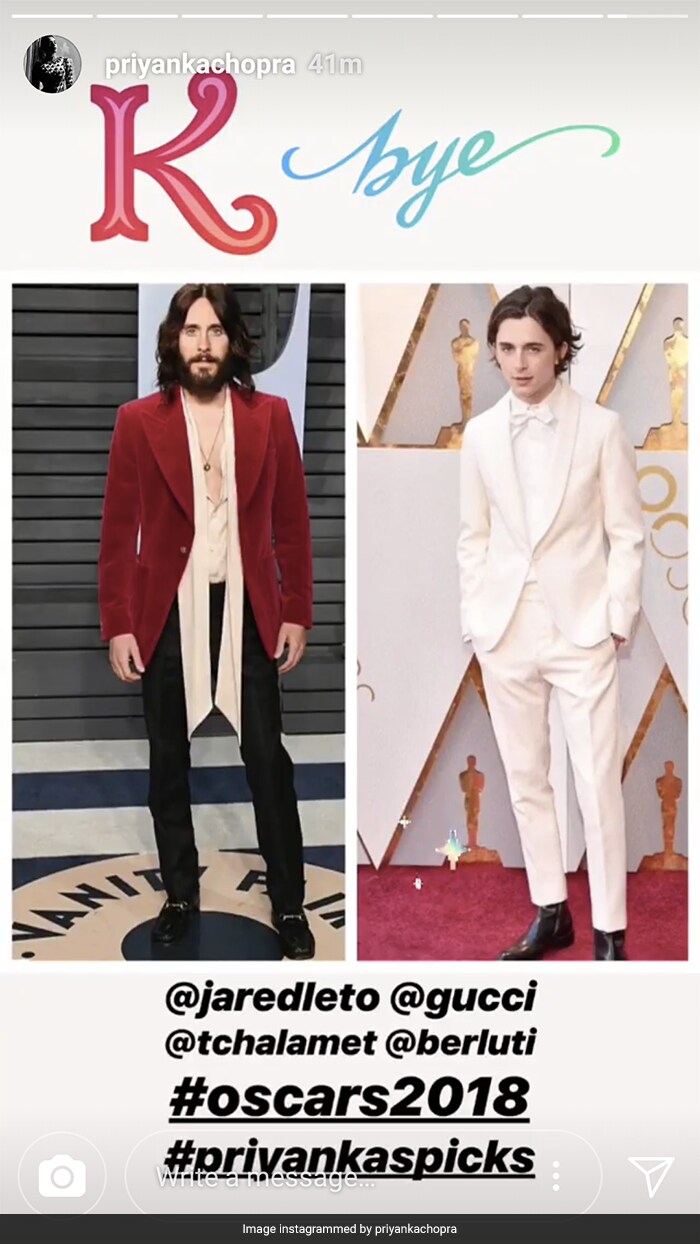 Well, good taste appreciates good taste. And #PriyankasPicks surely reflect that.

Meantime, here's a look at what Priyanka Chopra wore to the two Oscar ceremonies she's been to so far. This lace Zuhair Murad dress was the seventh most-Googled Oscar outfit in 2016.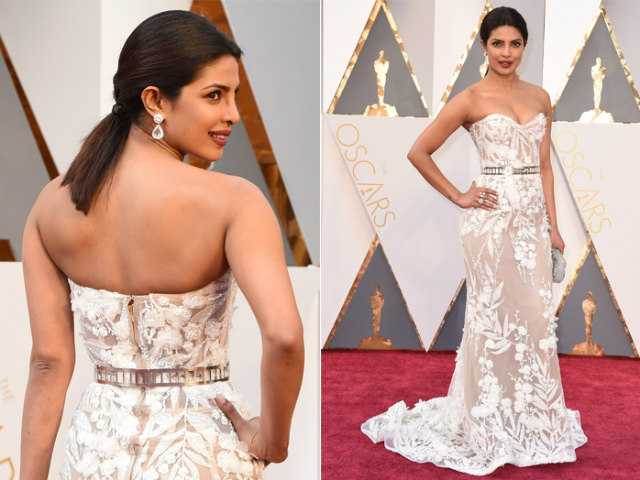 Last year, she wore silver Ralph & Russo embellished with a geometric pattern.
Comments
See you again next Oscars, Priyanka Chopra?