Have you been waiting all year for winter to arrive? The wait ends because it's finally here and with it, the much-awaited slew of winter fashion trends. While we've already seen our fair share of chic layering from Bollywood, another one making an appearance is that of boots. In a tropical setting like ours, one barely ever gets the chance to legitimately pull out a pair of boots. But when the temperature drops by a few degrees and a Bollywood star is spotted wearing them, that's enough of an excuse don't you think?
Making an appearance at the trailer launch for Street Dancer 3D with co-star Varun Dhawan was the lovely Shraddha Kapoor. The actress wore a multi-textured Amit Aggarwal silver strapless mini dress with a silver smokey eye and oversized hoop earrings. She gave the outfit a rugged edge with a chunky pair of glossy black boots with heels and lace-up front.
Not only do Shraddha's boots add a cool girl vibe to the otherwise party look, it's also a fun choice as well. Now that winter has arrived in full form, you don't need more excuses to throw on yours with your outfit. Whether with your cardigans, denims or dresses, adding a pair of boots to your wardrobe is exactly what you need.
10 Boots For Women This Winter Like Shraddha Kapoor
With Shraddha Kapoor as style inspiration, add these 10 stylish picks for women to your winter wardrobe this season.
(
28 ratings & 130 reviews
)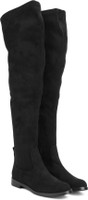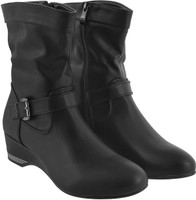 (
33 ratings & 192 reviews
)
(
64 ratings & 134 reviews
)
To browse more boots on Amazon and Flipkart, click here and here respectively.
Comments
Disclaimer: The Swirlster Picks team writes about stuff we think you'll like. Swirlster has affiliate partnerships, so we get a share of the revenue from your purchase.