Valentine's day 2020 has almost arrived and if you're wondering what to wear, we suggest you shouldn't skip past ethnic wear. If kurtas and salwar suits are your fashion staple all through the year, why should they be abandoned in favour of pink dresses and red gowns? Western wear definitely isn't a necessity on Valentine's day so if you're in the mood to slip into some fashionable ethnic pieces for V-day, we've picked what you need.
(Also Read: Aishwarya Rai Bachchan Nails Wedding Style In A Shimmery Floral Lehenga)
8 Ethnic Picks For Women To Wear On Valentine's Day
This Valentine's day, choose from one of the these ethnic pieces for your day or night out.
1. Morav Saree
The Morav Saree is a pink net saree with an unstitched short sleeve blouse and floral embroidery.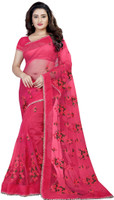 (
2,335 ratings & 13K+ reviews
)
2. Fotoablearc Lehenga
The Fotoablearc Lehenga is a beige and red semi-stitched set of a lehenga, blouse and dupatta with embroidery all over it.
3. Saara Crepe Salwar Suit
The Saara Crepe Salwar Suit is a green and red printed unstitched suit with a collared, three-quarter kurta, matching Patiala pants and dupatta.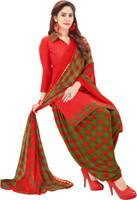 (
492 ratings & 3,970 reviews
)
4. Ethnic Junction Salwar Suit
The Ethnic Junction Salwar Suit includes a red and grey linen blended kurta with grey bottoms and a net dupatta.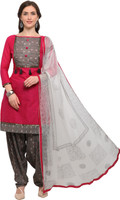 (
1,347 ratings & 6,555 reviews
)
5. Saara Salwar Suit
The Saara Salwar Suit is an unstitched red, black and beige printed poly crepe material for Patiala style bottoms, a dupatta and three-quarter sleeve dupatta.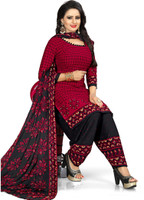 (
1,775 ratings & 13K+ reviews
)
6. Shoppee Salwar Suit
The Shoppee Salwar Suit is a poly cotton unstitched material for a beige and red designer suit.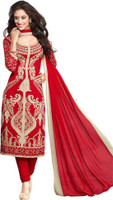 (
14 ratings & 113 reviews
)
7. Ahika Kurta
The Ahika Kurta is an A-line red cotton blended kurta which is ankle-length with side slits.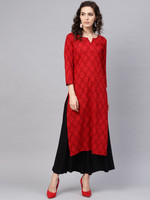 (
634 ratings & 3,824 reviews
)
8. Jaipur Vastra Kurta
The Jaipur Vastra Kurta is a red floral printed rayon kurta with flared sleeves and ankle length.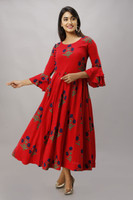 (
49 ratings & 380 reviews
)
To browse more kurtas on Flipkart, click here.
(Also Read: Rani Mukerji's Floral Saree Is What You Need For A Spring Wedding)