Actress Deepika Padukone's insanely stunning appearance in an oomphy Sabyasachi-designed outfit at an event this week stopped the Internet dead in its tracks. Deepika's sari that's not a sari shot up the trends right to the very top where it's been basking in the glow of multi-fold searches for about a day-and-a-half now. From the designer, we learnt that Deepika's ensemble is actually a skirt, top and dupatta belted to look like a sari. As much of the Internet has pointed out, it's a hard look to nail and few others would have carried it off with Deepika Padukone's aplomb.

But that's not what this is about. Sifting through the many pictures available of Deepika Padukone looking utterly divine in her not-a-sari threw up this image of the 31-year-old actress clutching her low-cut top, presumably to avoid the dreaded 'oops moment.' The outfit shows a lot of Deepika's bronzed skin but in every other picture, she walks and poses confidently. This moment slipped by almost unnoticed but is a grim reminder of a lesson that celebrities have been quick to learn, often the hard way - a wardrobe malfunction, however brief, would unlikely have escaped the banks of cameras that were present and the headline carried by tabloids might well have been not about the awesomeness of Deepika Padukone but about the embarrassment of a momentary slip.

So Deepika was taking no chances:
Just as Aishwarya Rai Bachchan wasn't either, just days ago. Exiting a party held at designer Manish Malhotra's home last week, Ash was concerned that a camera had gotten a glimpse up the skirt of the denim shift she was wearing. As she got into the front seat of her car, video footage caught husband Abhishek Bachchan (he was driving) beckoning over a photographer, checking his camera for potentially embarrassing pictures and then, satisfied that all was well, gesturing to the assembled paparazzi with folded hands to make way for the car.



In this picture, Abhishek motions the photographer over to the car: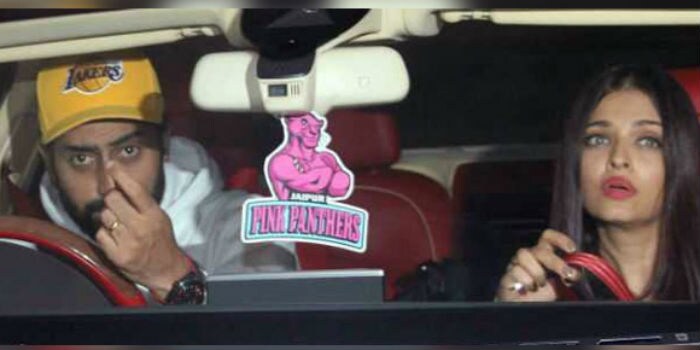 All this lasted less than a second - but served to prevent an eternity of unwanted pictures knocking around on the Internet. The picture of Deepika Padukone is a revealing moment, one that celebrities might not even want us to see. But it's out there, for all time -testament to why Deepika, Aishwarya and other stars are right to err on the side of caution.