The rise of Korean pop culture is taking the world by storm. There is no slowing down, and needless to say, the Korean wave has hit India too in the last couple of years. This has generated curiosity amongst travellers towards South Korea, and Seoul being the capital city tops the list as a must-visit destination. A perfect blend of the old and the new, this South East Asian city is a fascinating potpourri of the best of contemporary sights, ancient landmarks, infinite skincare products and buzzing nightlife. If Seoul is on your mind, here are 7 must-do things in Seoul that will win your soul.
1. Witness breath-taking sights from the observatory decks
If you want to capture the entire city in a glance, N Seoul Tower and Lotte World Tower are just the places to be. While they both serve the same purpose, the view and the experience are different and that's just why visiting both the observatory decks is recommended.
118th floor of Lotte World Tower not only gives you a mesmerising view of the heart of Seoul but the deck has a transparent glass floor, which means you can literally see the city from under your feet. The ride all the way up here to the tallest building in South Korea is rather quick and engaging in the fastest multimedia double-decker elevator. N Seoul, on the other hand, has been built on top of a mountain and has a spectacular view where you can see the skyline of Korea. It will take a couple of minutes to fully take in the gorgeous experience from this spot. Another interesting addition is that of love locks where padlocks are attached to the fences by couples from around the world.
(Also read: Africa Calling: How To Have The Greatest Safari Holiday With Your BFF)
2. Visit the traditional palace, village and wear a Hanbok
Get a close peek into the roots of Seoul by visiting theGyeongbokgung Palaceand witnessing the guard changing ceremony which takes place every morning at 10 AM. Thousands of people gather wearing the traditional Korean outfit called the Hanbok, which is worn on festivities and weddings. One can rent these outfits starting at 5,000 Won for a couple of hours and visit all the historic places of Seoul. There is free entry to a couple of places for everyone dressed in a Hanbok.
(Also read: 5 Reasons Why Fiji Is A Must-Visit For Adventure Seekers)
3. Eat to your soul's content
If you're a foodie, you're going to love your time in Seoul. Korea is very popular for its Korean barbecue and hence highly recommend too.Bibimbapis one of their popular dishes, which includes steam rice, veggies, an authentic Korean sauce, meat of your choice cooked in an aromatic broth and a fried egg on top. You can customise the dish as per your preference. Bibimbap comes in with about 2-3 sides which can be re-ordered as many times as you want without an additional cost. If you are a vegetarian Indian, worry not, there are tons of Indian restaurants in Seoul in case you're craving home meals!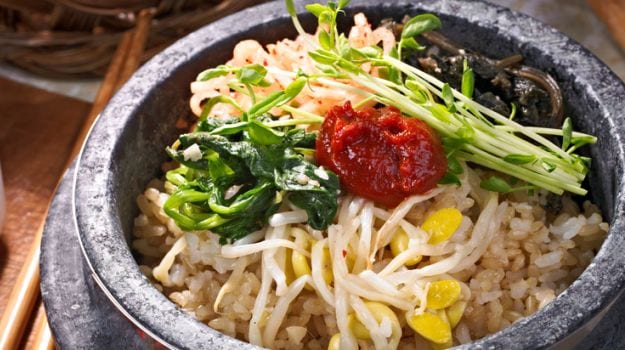 You can also trySoju,their authentic Korean liquor drink made from rice. It's not only famous amongst the locals but also the tourists. There is also an interesting way of how it is poured and consumed. For the first drink an older member in the group pours Soju in a shot glass, you take the shot glass in your hands, turn your face to the side to avoid any contact with the person who handed the glass and then go for it. It would be criminal to travel to Seoul and miss out on the popular32cm tall ice cream, which is delicious and you may not see these anywhere else.
4. Wander through the lanes and streets of Seoul
To truly understand the culture and live it, one must visit the various streets and lanes in Seoul. There is so much happening all around! Here are some streets you must not miss.
Insadong: Visit Insadong to get your hands on some antique creations, understand the traditional culture, to see some historic building and temples.
Hongdae: Visit Hongdae for its night market and very reasonably priced shopping. You will find a bunch of street performers especially post evenings and they will amaze you.
Myeongdong Street: This is a paradise for shopoholics. Korea is famous for its beauty and skincare products, so you can buy them in bulk and take it back home and share it with friends as a souvenir. All the stores mostly welcome walk-ins by offering a small gift. Now that's a great reason to visit! You will find dozens of street food carts you can stop by to take a quick break from shopping.
Gangnam Street: Gangnam is known to be the richest district in South Korea. You will spot a bunch of upscale malls and designer showrooms in this area. The popular song 'Gangnam Style' by PSY was once performed on this street by the artists, and as a tribute, there is a statue of the signature step right outside exit 5 of the Gangnam station. You will find tons of people performing on the song and taking pictures and videos.
5. Visit Everland for one of world's fastest wooden rollercoaster
You are never too old for an amusement park and Everland proves just that. Everland is South Korea's largest theme park. There is a variety of things to do for everyone. From some really fun rides to spotting tigers and pandas. One of the most gorgeous rose gardens to some great eating options, they have it all. If you are someone who is a thrill-seeker, you're going to love it. The ride T-Express, one of the largest and fastest wooden rollercoasters, is a hurricane are not to be missed.
6. Experience glampingandlivebarbequebythecountryside
Experience a surreal sunset and rent a cycle at Nanji Hangang Park on your visit to Seoul. The view is splendid and getting a chance to cycle through the view is an opportunity you must grab. One can enjoy a barbeque dinner and glamping (glamorous camping) at Han River too. The convenience store allows one to rent all the ingredients and equipment required for a barbeque with friends and family to enjoy a perfect evening meal under the moonlight. This is one of the most unique experiences and a memorable one.
7. Get a slice of nightlife
Among other things, Seoul is popular for its nightlife; weekends here are always buzzing. You will not only find people shopping and strolling on the streets but also pubs and restaurants fully occupied too. You will spot shops and markets which are open till 3-4 AM. Even if you are not a pub crawler, a quick post-midnight drive is a good idea because not only is it safe, it is intriguing to see pedestrians, shoppers, party-hoppers go out and about in town. Some of the popular night markets are Dongadaemun Night Market, Namdaemun Night Market and Seoul Bamdokkaebi Night Market. If you wish to experience the much-talked-about party culture, then Itaewon, Hongdae, and Gangnam are places to be.
About the author: Following her quest for travel, Sulakshna Wadhwa craves for unique experiences and surreal sunsets. The smallest of things about big destinations strike a chord with her, and find their way into passionately written stories.
Disclaimer: The opinions expressed within this article are the personal opinions of the author. NDTV is not responsible for the accuracy, completeness, suitability, or validity of any information on this article. All information is provided on an as-is basis. The information, facts or opinions appearing in the article do not reflect the views of NDTV and NDTV does not assume any responsibility or liability for the same.