A top tip any frequent traveller will tell you is usually dressing comfortably to withstand endless train journeys and cold cabin air. When you think of Bollywood airport fashion, comfort is last to come to mind, really. But can they co-exist? Can there be a celebrity look that is practical enough to wear when travelling but not so comfortable that it looks like one has walked straight out of bed? By the looks of Sara Ali Khan's latest look, we think it might be. Today the actress wore a blue tracksuit at the airport.
(Also Read: Sara Ali Khan To Janhvi Kapoor: Which Striped Dress Is Your Favourite?)
Tracksuits To Travel In Like Sara Ali Khan
The next time you're heading on a journey, do it like Sara in a tracksuit.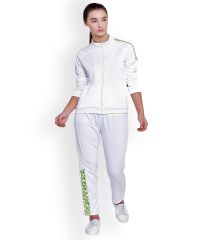 The actress was seen in a light blue tracksuit of jogger-style pants and a bomber jacket with elasticated cuffs. Underneath was a printed Puma sports bra, a set of toned abs and chunky sneakers which looked mighty comfortable to coast through the airport. Completing the outfit was an elaborate pair of braids in her hair. If that isn't a stylish travel look, we don't know what is. Roomy bottoms like these are great to stretch in, especially if your journey goes on for most of the day. Layering up in the jacket will keep one warm without feeling stuffy and well, sneakers need no explanation for why they're the ideal travel choice. The next time you've got travel plans, Sara is the inspiration you need.
Comfortable Fashion Picks To Travel In
Make sure comfort comes first without compromising on style with these fashion picks.
(
139 ratings & 729 reviews
)
(
917 ratings & 3,948 reviews
)
To browse more sportswear on Amazon and Myntra, click here and here.
(Also Read: Sara Ali Khan Is All About Floral Love In A Pretty Sharara Suit)
Comments
Disclaimer: The Swirlster Picks team writes about stuff we think you'll like. Swirlster has affiliate partnerships, so we get a share of the revenue from your purchase.