Come summer and out pops our collection of peppy flat sandals to team with denims and dresses and what not. If there's one thing that can make our summer style turn into a nightmare is having cracked heels! They are horrible, painful and a complete spoiler. While most of us regularly moisturise our hands and feet, we often forget to pay special attention to our heels. The soft and sensitive skin in our heels easily tends to crack if there's insufficient moisture. So it's definitely not just cold weather that's to be blamed.
Cracked heels can occur if you do not moisturise your heels, regularly take bath with very hot water, are dehydrated, been excessively scrubbing your feet or using harsh soaps. At times like these, you should resort to easy home remedies to treat cracked heels naturally. We list out a few:
1. Banana + Coconut Oil
Banana and coconut oil are both known for their great moisturising properties. Take a ripe banana and mash it completely in a bowl, and then add quarter cup of coconut oil. Mix well and generous apply all over your feet. Let it rest for 20 minutes before washing it with cold water.
2. Malai + Oatmeal
A lot of us may hate the malai layer that forms on the surface of hot milk, but don't throw it away because it acts as an incredible skin moisturiser. Take half a cup of oatmeal and soak it in half a cup of warm water. Use it to gently scrub your heels and feet. Then wash off the scrub and apply malai on the heels and leave it on for 15 minutes. Rinse with cold water and repeat the process for a week.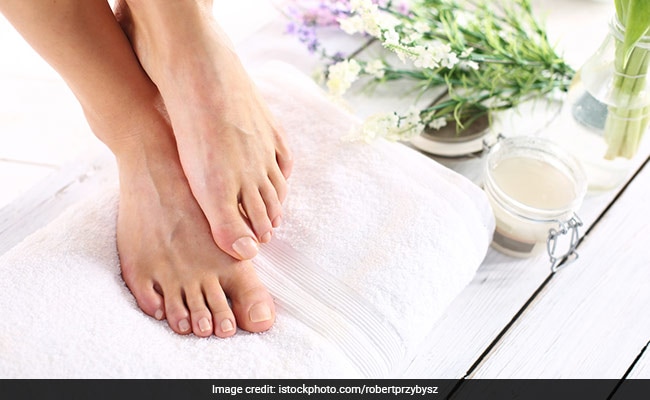 3. Glycerine + Lemon
First, fill a bucket with warm water and add three to four drops of rose water. Soak your feet in for 15 minutes and then using a pumice stone, scrub your heels gently to remove dead skin cells. Next, make a paste of two tablespoon glycerin, one tablespoon lemon juice and one tablespoon raw salt. Apply it generously on your feet and heels and leave it on for 15 minutes. Wash with water and pat dry.
Comments
If you really don't find the time to try out these home remedies, just get hold of a really good skin moisturising cream and apply it generously on your heels every night before you sleep. You will notice a difference soon.