The joy of watching the rains and sipping a cup of piping hot chai is hard to match up to. Come monsoon and this of course becomes a favourite thing to do. And why not? You are actually doing your body a lot of good by sipping nourishing teas. With endless varieties of teas available in the cafes and markets, it's the best time to enjoy the beverage and boost up your immunity. During monsoon, one needs to be mindful because excess humidity leads to rapid growth of a range of bacteria and viruses, which eventually causes a lot of infections and allergies.
Teas blended with immunity boosting herbs and spices can help you a great deal in staying hydrated and keeping infections at bay. Wondering what kinds of teas to get hold of? We list down a few:
1. Masala Chai
Our love for masala chai is not without reason. Other than the milk and sugar dose, it's the inclusion of the handful of spices like ginger, black pepper, cardamom, cloves and cinnamon that transform the tea into a magic potion. These spices come with a load of health benefiting properties, including being super agents to fight microbial infections, cough, cold and flu. There are many masala tea brands available in the stores, or you can make it at home.
(Also read: 5 Immunity Boosting Foods To Include In Your Diet This Monsoon)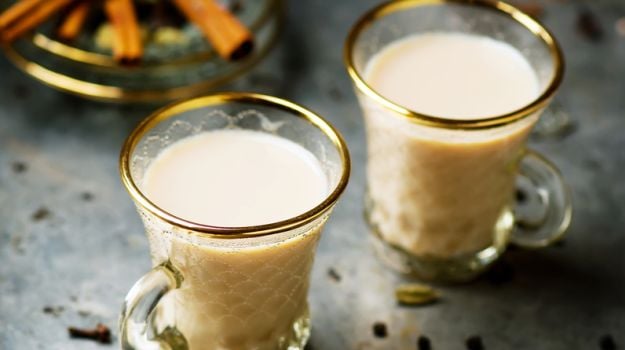 Image credit: Istock
2. Lemongrass Liquorice Tea
If the rains make you want to cosy up in a cafe and sip tea, then you should head to Smoke House Deli. They have recently introduced a specially curated tea menu by artisan tea label Anandini Himalaya Tea to highlight the wonderful healing and beneficial aspects of tea.Among the many tea blends, what seems apt for the monsoon is a lemongrass tea called Look, Here Comes the Sun. It's made with lemongrass, yerba mate, ginger, mint and liquorice, which are the perfect ingredients for a health boost this monsoon.
3. Mango Ginger Turmeric Tea
Teabox has a perfect blend of tea for the monsoon and that's Mango Ginger Turmeric Tea. Ginger and turmeric are magic ingredients for the monsoon. Most health problems during this season can be traced back to improper digestion or chest congestion. Both these ingredients, along with mango, can give a boost to your immune system with their anti-microbial and anti-inflammatory properties.
4. Mint Blend Herbal Infusion
Herbs like mint are not just flavour boosters but they are packed with antioxidants that help your body in numerous ways, particularly in fighting free radicals that causes oxidative stress. Starbucks' Mint Blend Herbal Infusion combines two herbs - spearmint and tarragon - to create a nourishing cup of tea.
5. Spiced Rose Tea
Rose is known as a mood enhancer, bringing about a feeling of instant refreshment. And when mixed with healing spices, it becomes a perfect beverage to sip during the rainy season. The Tea Shelf's Spiced Rose Tea blends rose petals with black tea, along with clove, cardamom and black pepper, making it a great option.
Sip on these monsoon teas to get a health boost.