Hollywood's sartorial show of support for victims of sexual abuse - by actresses pledging to wear black on the red carpet of the Golden Globes - may have been received with criticism and skepticism, but it didn't stop the industry's flashiest from kicking off the night in a sea of sombre, if designer, black.
And while we may have had our doubts about the hollow symbolism of switching the colour of an outfit at a time when the culture of abuse perpetuated by some of its most powerful - Harvey Weinstein, Kevin Spacey, Louis CK, to name just three from a very long, depressing list of Hollywood luminaries - has revealed itself to be all but an open secret among industry insiders; we have to admit, watching Hollywood's most prolific women stand united in stark black was, indeed, an impressive sight.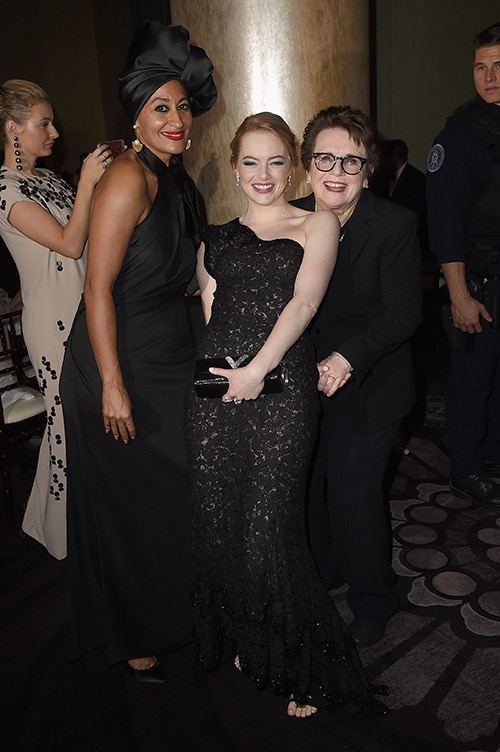 According to the New York Times, Lena Waithe, the creator of The Chi, told InStyle, "It may be a small way of showing solidarity, but to me this is extremely important. If someone looks back and wants to know where I stood, they'll see that picture of me on the red carpet wearing nothing but black."
As supportive as we are of Time's Up, the legal, financial and PR initiative by 300-odd women of Hollywood to aid victims of sexual abuse both within and outside the entertainment industry, we're still not sure that wearing designer black was the best they could have done.
While many women and activists are equally on the fence, there are those who supported the Time's Up women's decision to don the neutralising colour wholeheartedly. The hashtag, #WhyWeWearBlack swept Twitter on Sunday morning, all but christening the Golden Globes with its name.
Whatever our feelings about the unofficial dress code, watching the founding members of Time's Up - Reese Witherspoon, Eva Longoria, Salma Hayek and Ashley Judd - holding hands and walking on the red carpet, was a bittersweet, powerful sight to behold. Given that the women in Hollywood are constantly and mercilessly pitted against each other on every aspect of their existence - from what they wear, how they aged, whether they went under the knife, how they look, whom they date and how much they make - far more than the men ever will be, watching a moment unfold that bound and united them for a cause that is bigger than any one person, was television gold.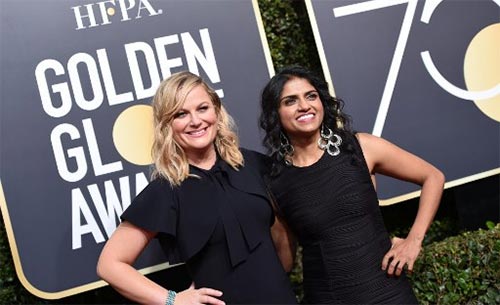 And watching eight bigwigs Meryl Streep, Emma Watson, Amy Poehler, Susan Sarandon, Emma Stone, Laura Dern, Shailene Woodley and Michelle Williams arriving in pairs, with activists as their guests to the awards, was definitely a redeeming factor in a plan that had women divided on its relevance and efficacy.
Tarana Burke (the legendary founder of the #metoo movement) was Michelle Williams' guest, Amy Poehler's came with Saru Jayaraman, Emma Stone was accompanied by Billie Jean King, Meryl Streep with Ai-jen Poo, Emma Watson was joined by Marai Larasi, Shailene Woodley by Calina Lawrence, Laura Dern by Monica Ramirez, and Susan Sarandon brought Rosa Clemente. Each of these women were nationally and internationally renowned activists, journalists and campaigners of women's rights in various spheres of life.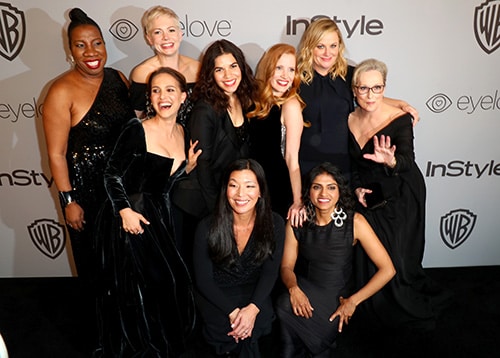 It was a poignant and fitting start to the evening when Nicole Kidman, who won the first award of the evening - best actress in TV movie or miniseries -- for her role in Big Little Lies as a battered wife who, after months of quietly and confusingly justifying her husband's abuse, finally finds the courage to leave him. Her dedicating the award to her female co-stars - whom she named - and accepting it with a "Power of Women!" was just the start that the evening needed.
And Debra Messing, Sarah Jessica Parker and Eva Longoria using their red carpet interviews with E! to call out the massive pay disparity between E!'s former hosts Catt Sadler and Jason Kennedy was exactly what the evening needed.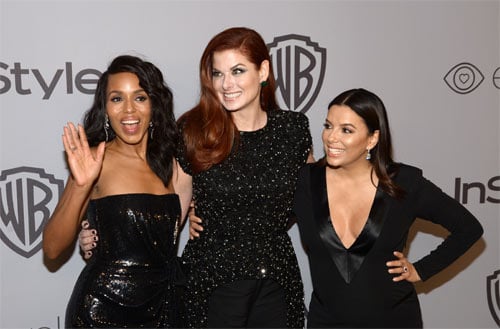 There was no dearth of a show of support from the men's side either, with Chris Hemsworth, William H Macy, Nick Jonas, Seth Rogen, Bob Odenkirk, Ewan McGregor, Jude Law, Aziz Ansari and many others sporting all-black ensembles as well as the Time's Up pins on their jackets.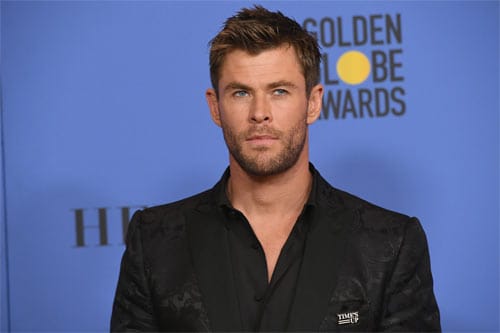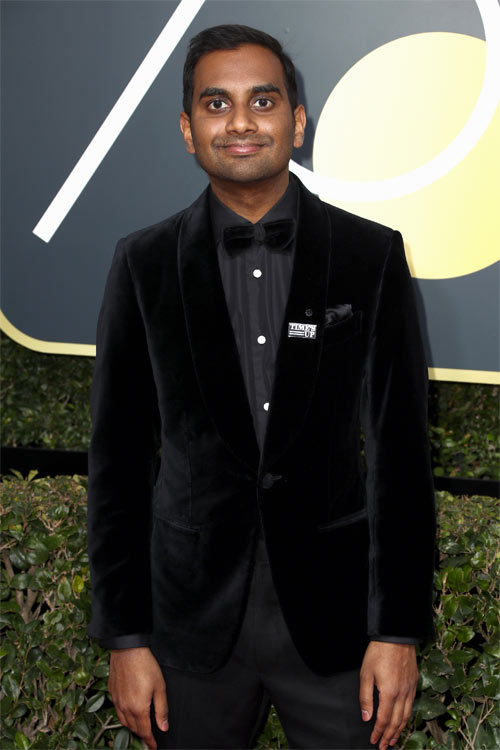 While feminism and feminists welcome shows of solidarity from the men with open arms (why wouldn't it?), performative feminism is not something anyone was willing to stomach, particularly on a night when women were trying so hard to move the needle from 'Who are you wearing?' to 'What do you want to say?'. So even though Justin Timberlake showed up with wife Jessica Biel, the Time's Up pin visibly on display, beaming at Jessica's achievements, and saying all the right things, people were quick to point out the hypocrisy in him championing the cause ofo victims of sexual abuse, while starring in a Woody Allen film.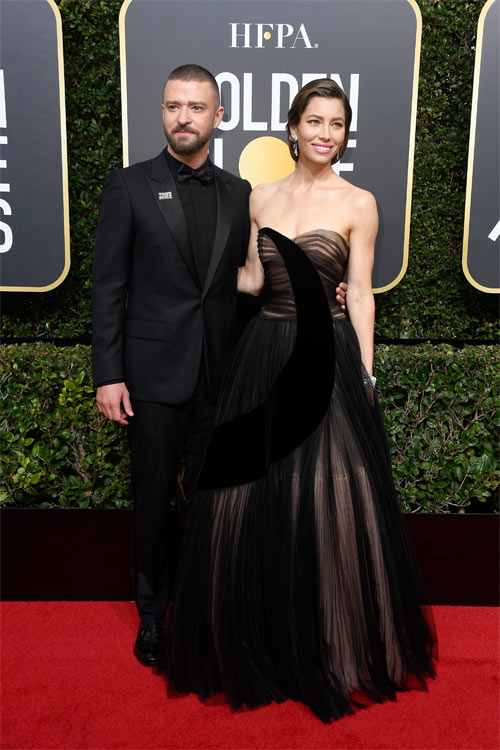 As soon as Justin posted a pro Time's Up message on Twitter, people started pointing out the duplicity of his choices. Twitter, very clearly, was not very amused by his explanations of why he wears black.
We're still ambivalent on the symbolism of wearing a colour to a red carpet. We still think it helps too many people with means, money and the world's ear to get away with doing too little. But women coming together, hanging out in solidarity, refusing to let their fierceness and strength be diminished, even if for a fleeting moment in time, that we're always, inexorably, and completely on board with.