The nutritionist in me cannot deny the significance of snacking for kids. Snacks often get a bad reputation but if chosen wisely they are integral fillers in between big meals. Kids grow fast and need frequent refuelling. Snacks are saviours to meet the daily nutrient requirements of our kids. Being a mommy, I can relate well to one of our pet peeves as moms "kitna variety banao?". So how do we solve this conundrum without having to resort to sugary, fatty and junk? To keep them from grabbing chips or cola, let's get savvy with snacks for kids.
How To Prepare Healthy Snacks For Kids
1. Always Have A Plan
We take out time once a week and plan our family's menu - Breakfast, Lunch and Dinner, right? Include after school snacks too in the planning. You might need to make an energy dense heavy snack for the day your child goes for basketball straight after school while a bowl of fruits will do on days when it's an art activity. Once you know what kind of snack you need to prepare, it sorts out your mental clutter drastically.
(Also read: Veggies Only Dinner Menu For Your Toddler: How To Make Them Love Greens)
2. Have Your Ingredients Ready
Shop for the week once your meal and snack timetable is ready. It will save you grocery runs in the middle of the week, and will also help avoid those impulse chips, cakes and cookies too.
3. Keep Your Fridge And Snack Cupboard Stocked
Have stuff that you can fall back on. It may be peanut butter, hummus, dips, fruits, rava, yoghurt, rice flour, oats, besan, green chutney, khajoor chutney, corn kernels, boiled potato or sweet potato anything that your family likes and eats readily.
Beware: You will feed what you stock, so choose wisely and stock healthy.
Swirlster Picks Products For Safe Food Habits
4. Involve The Kids And Have fun
Talk to your child about the new recipe you came across or ask him to YouTube an easier version of the same recipe. Involve them in meal planning, simple pre-preparations like stirring the batter or packing their own tiffin. Not only will they eat better but they are nice bonding activities too!
5. Include Junk In Limits
Totally cutting off their favourite treats is going to result in one sulky kid. Include a cookie along with bowl of fruits or some chips along with dosa. This will not only cut down the junk but also ensures more healthy intake. Special junk treats can be reserved for special occasions.
6. Make The Food Look Interesting
Always remember, kids eat with their eyes. Try experimenting with interesting shapes, bright colours, contrasting textures to make the food look more appealing. Time pressed? Buy a new tiffin or a nice colourful plate. You can even include a nice note. It makes them feel special and they will happily eat.
Healthy And Yummy Snack Ideas For Your Kids
Fruit Smoothies & Sorbets
Don't give up on a chance to serve those fruits and veggies! Combine interesting combinations into smoothies or shakes adding a little nuts or dry fruits or freeze them as sorbets for later.
Veggie Sticks & Dips
Cut veggie sticks with dips is another quick pick me up. Experiment as much as you like with yogurt based dips, hummus, guacamole or salsas.
Ready To Eat Fruits & Veggies
Let the child pick fruits and veggies of their choice. Let them experiment with different flavours and textures. Don't force for a particular fruit or veggie.
(Also read: Veggies Only Dinner Menu For Your Toddler: How To Make Them Love Greens)
Roti, Wraps Or Rolls
You can mix flours (soya, wheat, corn or some local millets) to make your roti base. Spinach /beetroot can be blanched and added to the flour to make it more healthy and interesting. You may use finely cut veggies, corn kernels or separate some boiled beans or potatoes which you plan to prepare for dinner.
Dosas/Chillas
Dosas can be of traditional rice and pulse, multi-grain, semolina (rawa), local millets (jowar, bajra, nachni) and even oats. Moong dal chillas are a great way to get those sprouts in.
Pancakes
Pancakes again can be sweet or savoury. Use whole wheat flour instead of refined flour.Can include some home-made almond flour in them if your kid is not a fan of whole dry fruits.
(Also read: What Should You Be Feeding Your Baby Post 6 Months?)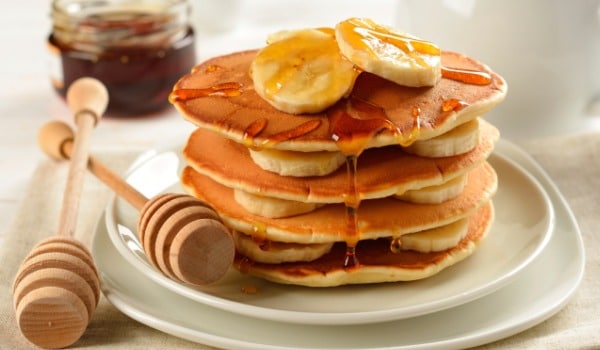 Left-Over Magic
1. Rotis: can be made into a khakra, can be torn into strips and made into a bhel, can be cut into small pieces, topped and served as quesedillas.
2. Idli: simply break into pieces, temper and serve.
3. Dal: Knead them in a dough and prepare base for the roll or wrap.
4. Veggies: can be fashioned into rolls or sandwiches.
Bhel Varieties
Try sweet potato or sprouted green moong chaat or corn bhel or chana chaat. They are simpler to prepare and light on tummy too.
Traditional Snacks
Stay in touch with your roots. Try healthier cooking methods. Like baking the potatoes for ragda pattice makes the unhealthy, super healthy.
(Also read: Here's How To Ensure That Your Baby Stays Away From Unwanted Germs)
Comments
Disclaimer: The Swirlster team writes about stuff we think you'll like. Swirlster has affiliate partnerships, so we get a share of the revenue from your purchase.