Is snacking your favourite pastime? If the answer is yes, then we know how difficult it must be for you to keep looking out for healthy snacking options that are far from boring. The truth is that it is very tough to stay away from junk food, especially when it is readily available everywhere. So how do you change that habit? The simple answer is granola. Just like namkeen mixtures that you like to munch on whenever hunger pangs kick in, granola can serve the same purpose but on a much healthier note.
Thanks to the trend of healthy eating, we can now find a good range of healthy snacks in cafes and supermarkets. While granola can be brought from the stores (which is usually high in sugar content), it is in fact ridiculously easy to put together at home on your own.
The one rule that you need to remember while making granola is the ratio 6:1. You need to use six parts dry ingredients and one part wet ingredients to be able to get that perfect crunch and golden glaze. Wet ingredients refer to sweetener and fat. Sweeteners could include honey, brown sugar syrup, maple syrup, jaggery nectar or agave nectar. For fat, you could use extra virgin coconut oil, olive oil, canola or sunflower seed oil.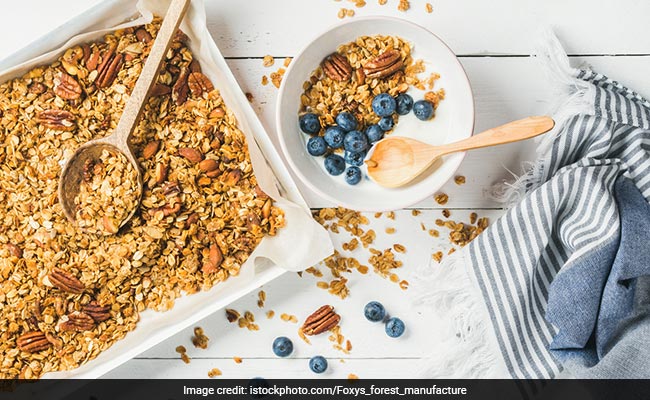 Here are some of the dry ingredients that you need to get hold of to make granola:
1. Oats - The one ingredient that's a must to make granola is rolled oats. Oats are a great source of fiber and contains minerals like folate, iron and magnesium.
2. Nuts - Nuts not only add crunch but a good dose of flavour too. Besides they are good fats that the body needs for healthy functioning. Use cashews, almonds, walnuts, pecans or pistachios.
3. Chocolate chips - Chocolate lovers can add in a handful of chocochips after roasting the other ingredients to add some richness to the granola.
4. Healthy seeds - Seeds are powerhouses of essential nutrients. You can toss in seeds like pumpkin, sunflower, watermelon, chia and flax seeds.
5. Rose petals - Rose petals are known for their mood enhancing properties. Adding them in granola will give it an aromatic note.
6. Dry fruits - Dry fruits can be used as natural sweeteners. Toss in raisins, cranberries, blueberries, dates and apricots, or even candied orange and mango.
How to make granola
Whisk equal quantities of oil and sugar syrup until they are well combined. Stir it into your bowl of dry ingredients (except chocolate chips and rose petals) to coat evenly. Bake in a preheated oven for 30-40 minutes at 150 degree C until golden brown. Cool completely and store in jars.