Taimur Ali Khan Pataudi, Misha Kapoor, Ziva Dhoni, Zack Lalvani - Have they done something offbeat to have attained this celebrity status at this tender age? No, not really! Oblivious of what actually is happening around them and the frenzy they cause, toddlers of celebrities are shutterbug's favourites and often swing social media into action. Every move of these tiny 'celebs' is carefully registered and their pictures are shared among the fans like crazy. They are young but they already have a crazy following that can rival the stardom of their superstar parents (some of them even have fan clubs on social media too). Often their celebrity-parents help create such huge fan base, by frequently posting pictures and videos. The digital media is going 'gaga' over their new found celebrity status. Here are some pictures of children who attained superstar status just after their birth.
Taimur Ali Khan Pataudi
This little nawab, son of actress Kareena Kapoor and Saif Ali Khan, has a crazy star following and every time this adorable 10-month-old toddler has been clicked, he has managed to steal the limelight from his parents. Be it Soha Ali Khan's birthday or getting clicked at the airport, Taimur is grabbing everybody's attention each time he appears in public. And if you can't get enough of Taimur, here are new photos of him you'd not want to miss.
Kareena shows that she is a doting mother
Adorable picture of Taimur with Saif Ali Khan
How Taimur keeps Kareena Kapoor busy "Catch me if u can"
Taimur is so engrossed looking at this yellow flower, that you can barely take your eyes off this picture. Those chubby cheeks will surely melt your heart.
Misha Kapoor
Shahid Kapoor and Mira Rajput's daughter Misha makes sure the spotlight follows her. Misha and Mira were also seen spending some time together while travelling around the city like a doting mother-daughter duo. Shahid and Mira chose to ring in Misha's birthday on August 26, quietly away from the glare of the shutterbugs with only her parents and family in attendance. Both Shahid and Mira are regular in posting images of their little darling daughter and keeping the world posted with the latest. There is a reason why this cute kid has a huge fan following
Shahid and Mira sharing a family time post Diwali lunch
Out with mom Mira on a shopping spree
Parents sharing Birthday picture when Mira completed one year
Ziva Dhoni
Cricketer Mahendra Singh Dhoni's and Sakshi Dhoni's little charmer is already an internet sensation. We are talking about two-year-old Ziva Dhoni. Sakshi has been quite regular in posting pictures of her daughter's growing up moments. Be it Ziva playing piano for her parents or learning about IPL team, just left us spellbound. She is proving to be quite a quick learner and has already proven her musical prowess when she sang a song in Malayalam We are sure the parents must be absolutely thrilled with her cuteness overloaded pictures, her inclination towards music just as much as Dhoni fans are.
Sakshi captioned this adorable picture "Funny faces!!! Squish squash!!"
Smearing cake on papa Dhoni
Baby girl also enjoys the same passion as MS Dhoni towards scooters and bikes.
Stealing some moments from family. The Dhonis were spotted chilling, at a café and Sakshi was quick enough to post this picture.
Inaya Naumi Khemu
Soha Ali Khan and Kunal Khemu's newborn princess Inaaya Naumi was introduced to the world of social media through a picture with her darling daddy. Even before they make an entry to the real world they have a brush with the outside world virtually. Here are some lovely pictures of Inaaya Naumi.
The little angle can be seen cradled in her father's arms while Kunal appears to be singing a lullaby or talking to her. Mommy Soha captioned the picture as 'Bliss'. Of course. She is named Inaaya Naumi Kemmu.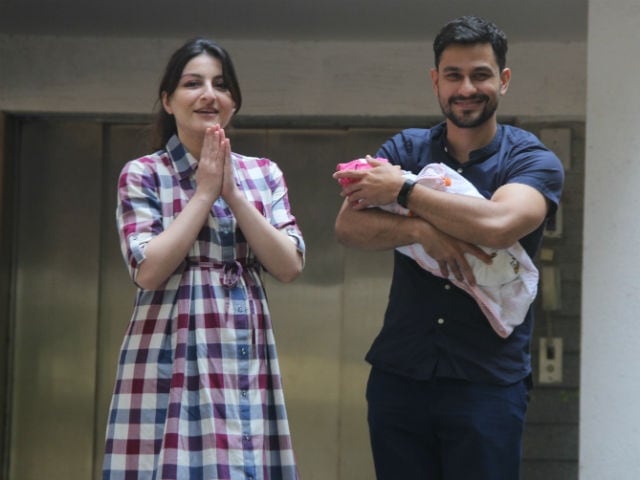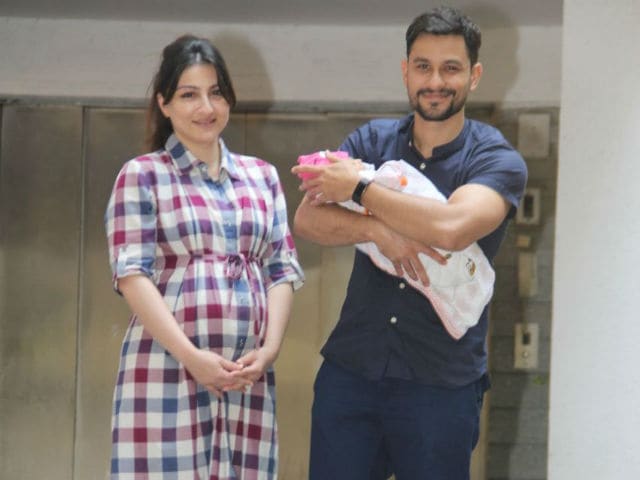 Zack Lalvani
Lisa Haydon, who is married to businessman Dino Lalvani, has been a successful model and has featured in several films like Aisha, Housefull 3, Queen and Ae Dil Hai Mushkil. She has been very social media friendly as well. She has been public about her pregnancy and birth of her child Zack and is quite active on her blog post on mycityforkids.com. Recently, the family of three took a vacation to celebrate Lisa and Dino's first wedding anniversary and the pictures are spellbinding:
The very first picture posted by Lisa Haydon showing a heart
Spending some time with her little just before hitting the pool.
Lisa posts a picture of herself teaching her son to swim in an inflatable pool. Her travel itinerary well laid out with her little one. She says "Not usually into posting plush plane cabins but this was all on @jetairways ... possibly the easiest first long haul with my babe as it could have been."
Lisa in a Portable inflatable baby pool as her little one turns 5 months old.
This picture completes her family.
Reyansh Shweta
Tiwari's Instagram status reads this "My Kids mean the world to me. I am the world's proudest mom, and an actor too." She has been very vocal about her daughter Palak and has always had words of encouragement, love and support for her. She is Kasautii Zindagi Ki actor who is now married to businessmen Abhinav Kohli and been blessed with baby boy Reyansh. Shweta Tiwari embraced motherhood for the second time and is often seen posing with her kids, especially her baby son, Reyaansh Kohli. He is just as cute, adorable, and Shweta often shares pictures of her son with social media.
Insta post says, "Reyansh Kohli... From the moment they placed you in my arms, you snuggled right into my Soul."
Reyansh on her mother's lap.
Shweta takes a break and hits a coffee shop for some time with friends and says "Sometimes all you need is a cup of coffee in a cafe with your friends"
Laughter is contagious so here's is a way to spread happiness.
After 16 years of wait Palak is finally tying Rakhi to her younger brother Reyansh. Shweta writes, "It is a blessing to get a brother for my daughter even after a wait of about 16 years," which Shweta truly cherishes. "After 16 years of falsely claiming my brothers, my daughter finally has her own little bodyguard, who loves her infinitely. Their bond is inexplicable in its own beautiful, delicate way. Seeing them love each other and grow fond of each other with every passing hour is a true boon that I'm eternally grateful for. To every Lavu out there and her Reyansh, a very happy Rakahabandhan."
Comments
Don't they just look cute in all the pictures and out of this world !!