With social media buzzing with numerous fitness challenges, the muscle strengthening exercise, push ups, have become more popular during Covid-19 lockdown than ever before. Fitness enthusiasts are always up for challenges, and so, who can nail core building exercises like push-ups is the new fitness goal. Leaving aside trends, push-ups have always been an all-time favourite exercise when it comes to fitness. It may seem easy to perform but this form of exercise works effectively in building your muscle strength and providing your body with various other benefits - from strengthening the spine to improving posture.
How To Perform Push Ups Correctly
The best part about push ups is that they work on various muscle groups in the body, thus helping both your upper and lower body. There are, however, things to keep in mind while performing push-ups to ensure that you are doing it in the right manner to prevent any injury.
Also read: Set Up Your Home Gym With Must-Have Equipment For Upto 50% Off
Rishabh Telang, strength coach at Cult.fit says, "There are various ways you can do push ups. Beginners can scale it down by trying bent knee push ups, while others who find regular push ups too easy can scale it up with some variations."
Rishabh adds, "When you attempt push ups, you need to make sure that your body - head to toe - is in a straight line as you get into the raised plank position. Your wrists need to be directly under the shoulders and slowly bend your elbows to bring your chest closer to the ground as much as possible, and then pull back up."
Push ups help in engaging your core or abdominal muscles as well as the triceps, pectoral muscles, shoulders, thighs and legs. You can always opt for variations to further benefit from this exercise and engage different muscles. "You can combine regular push ups with shoulder taps to further work your upper body. In that raised plank position with one shoulder on the ground, your abs, glutes and core muscles get activated as they work to support you," shares Rishabh.
Also read: 11 Ways To Do Plank, The Most Effective Exercise To Build Core Strength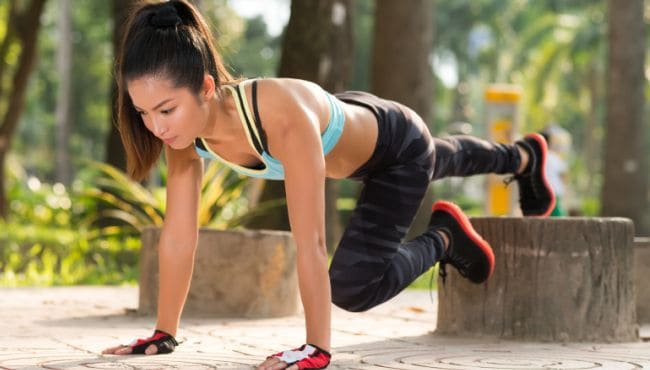 "For those who want to work on their triceps, there's the tricep push up. Here you need to keep your hands closer to each other rather than directly under the shoulders, so that when you bend down, your triceps are engaged," advices Rishabh.
Comments
So have you mastered push ups? If not, then learn these tips and nail the push up challenge like a pro.