"Health isn't everything in life, but without it, everything is nothing." As the proverb goes, good health is indeed a prerequisite for a good life, allowing us to enjoy everything else. A healthy body and mind, however, begin with a happy and healthy gut. Our well-being, both physical and mental, is closely tied to our gut. A healthy gut strengthens the immune system, helps heart, brain, and the digestive system to function effectively. It also prevents some forms of cancers and autoimmune diseases. It further improves mood and aids sleep.
Why Is A Healthy Gut Important?
Dr. Frank Lipman has pointed out, "70 per cent of your serotonin is made in your gut. What's going on in your gut is going to affect your mood - anxiety, depression, focus."
Serotonin, which is called the happy chemical, regulates our mood. Stress, anxiety and depression, which are associated with low levels of serotonin, are extremely common these days and it's not hard to see why. We often aren't mindful of what we put into our body. Our busy lifestyles dictate our food choices, making us reach for whatever is in front of us. While it satiates our hunger for the moment, these poor dietary choices eventually take their toll on our body and mind.
Also read: 5 Ingredients That Can Deeply Hydrate Your Skin In Summer
How You Can Care For Your Gut Health?
About 100 trillion bacteria, both good and bad, live in our digestive system. Collectively, these organisms are known as 'Gut microbiome' or 'Gut flora'. They help the body process food, maintain the stability of our system, and contribute to our overall well-being. We can start by feeding the good bacteria and help them to multiply in plenty. Here's how you can do that:
1. Add fermented foods to your diet
Fermented foods are rich in probiotics which are live bacteria and yeast. They are beneficial for our gut health. Homemade curd, buttermilk, fermented or pickled vegetables, fermented drinks like kanji, ambli (ragi porridge), fermented breakfast items like idli, dosa, and dhokla are excellent options to incorporate in your diet.
Also read: 5 Most Common Postnatal Diet Myths Busted For You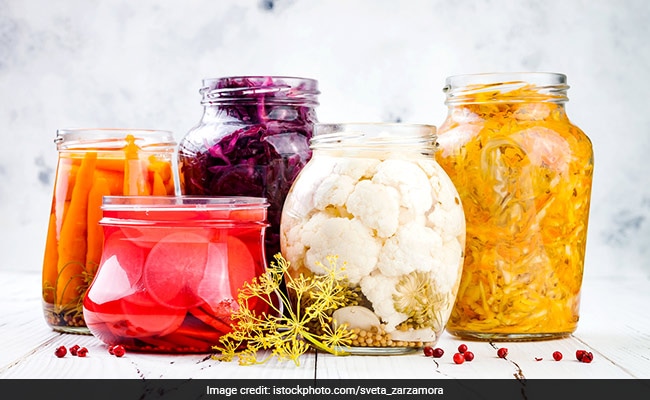 2. Curb the intake of processed foods
Minimise consumption of highly processed foods like packaged breads, pizzas, pastries made from refined flour, fatty foods, as well as drinks and sodas loaded with refined sugar and artificial sweeteners. These foods break down into bad compounds in our stomach, depleting the good bacteria and throwing off microbial balance. Consume food products that are as close to their natural form as possible.
3. Feed your good bacteria
Consume a variety of fiber-rich natural foods. Whole grains like oats, whole wheat flour, whole legumes, plenty of vegetables and fruits can provide food to the existing bacteria in that gut. These are called prebiotics. Probiotics feed on the prebiotics to thrive and multiply. Probiotic supplements can also be used under your physician's supervision to improve the gut bacteria.
Also read: Is The Intake Of Raw Salads Safe During COVID-19?
4. Avoid excessive usage of antibiotics
Antibiotics kill the bad bacteria responsible for infection, but they also end up killing the good ones. Use them with precaution only when it's absolutely necessary. Also, while you're taking antibiotics, incorporate plenty of pre- and probiotic foods to your diet to restore healthy gut microbiota.
5. Avoid additives, preservatives and alcohol
Try reducing your exposure to artificial flavours, food additives, and food preservatives, which can alter your gut microbes. Limit your alcohol consumption as well to preserve the good bacteria in your gut.
Additional Tips to Care for Your Gut
Set your curd at home for a more diverse strain of bacteria. The commercial yoghurt typically has fewer strains.

Make raita, like onion raita, as it is an ideal combination of pre- and probiotic foods also called as symbiotic foods.

Ferment or pickle vegetables at home using less oil and salt.

Replace refined grain foods like maida with whole-grain atta.

Get enough sleep and manage stress for better gut health.
If you aspire for a fulfilling life, it's time you pay attention to your gut health. You can start today by introducing little changes to your diet. With your body and mind functioning at their peak, you can be all set to achieve whatever you put your mind to.
About the author: Suhasini Mudraganam is the chief nutritionist at Truweight, a leading research and nutrition based healthcare brand.
Comments
Disclaimer: The opinions expressed within this article are the personal opinions of the author. NDTV is not responsible for the accuracy, completeness, suitability, or validity of any information on this article. All information is provided on an as-is basis. The information, facts or opinions appearing in the article do not reflect the views of NDTV and NDTV does not assume any responsibility or liability for the same.