When it comes to eating right, no one diet is good for everyone. Ayurveda believes every individual is unique and needs specific dietary interventions to keep their constitution in balance. When we're mentally and physically healthy, we will automatically gravitate towards foods that are good for us. But stress, anxiety, physical ailments and forced diets disturb our natural state of equilibrium and throw our intuition off track. In such cases, following these Ayurvedic principles can help us regain our balance.
1. Practice Moderation
Eat in moderation - neither too much nor too little. Yogic texts recommend that we should never stuff ourselves to full capacity but should leave a third of our stomach empty. Few things that make us overeat are watching TV or surfing our phones while eating. Eat mindfully without distractions, and chew your food well for good health.
Also read: On National Nutrition Week, Manushi Chhillar Shares Her Eating Habits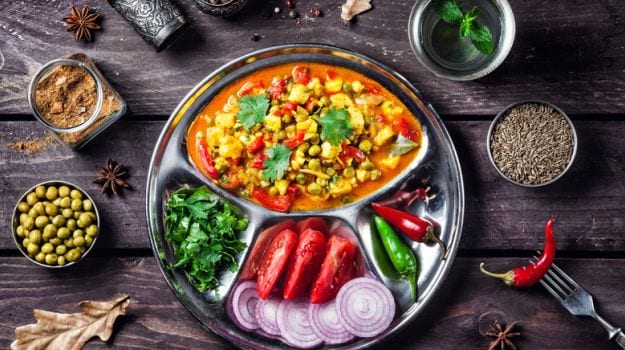 2. Practice Pranayama And Meditation
Mindfulness techniques reduce stress levels and also regulate our hormones. This is important as a lot of eating is triggered by stress or emotional events. That is why regular meditation practice helps reduce food cravings, prevents overeating, and makes you more aware of foods that don't suit your body. They bring about a natural change in your diet, which manifests over weeks of regular practice.
Also read: Let Face Yoga Take Away All Tension. Simple Face Exercises To Try
3. Eat Local And Seasonal
Seasonal food will taste better, be more nutritious, and have a lesser impact on natural resources. As per Ayurveda, the seasons lead to aggravation of Doshas or bodily humors which loosely correspond to the air, fire, and earth elements; these are Vata, Pitta, and Kapha. To balance these Doshas, we crave warm foods like soups, nuts, and fat in winter, sweet drinks, and cooling fruits in summer, and warm salty vegetables to fire up the sluggish metabolism during monsoons. Not adapting the diet with season leads to lower immunity and an increase in seasonal allergies or viral infections that are all too common during season change.
4. Align Your Diet To Your Doshas
Just like it is essential to align our diet with the seasons, it is also vital to be conscious of which diet is suitable for us as per our dominant dosha. For instance, Vata cannot tolerate salads, which make it gassy and bloated. It prefers warm cooked meals like porridge or khichadi. Pitta enjoys hot and spicy foods but ends up with ulcers or indigestion. You can soothe pitta with cooling fruits, drinks, and herbs like coriander. Kapha tends to gravitate towards heavy, sweet and high-calorie foods and tends to suffer from obesity. It does better on a light diet with salads, berries, green juices, and such.
An Ayurvedic doctor or consultant can help you in identifying the appropriate diet for your specific needs. But know that by practicing moderation, mindfulness, and meditation, you will also find a natural shift taking place in your diet and lifestyle. Honour that process and be receptive to your intuitive awareness to build a healthy relationship with food. By following the above four principles, you will see a gradual change in your eating habits and your energy levels - these changes will be more wholesome and permanent.
About the author: Namita Piparaiya is a yoga and Ayurveda lifestyle specialist and founder of Yoganama, a platform that brings these ancient practices under one roof. As part of her wellness journey, she has completed over 700 hours of Yoga Alliance certified training in Hatha Yoga. She has also studied Pranayama, Ayurveda, and Yoga Philosophy from some of the most reputed institutions and teachers globally.
Comments
Disclaimer: The opinions expressed within this article are the personal opinions of the author. NDTV is not responsible for the accuracy, completeness, suitability, or validity of any information on this article. All information is provided on an as-is basis. The information, facts or opinions appearing in the article do not reflect the views of NDTV and NDTV does not assume any responsibility or liability for the same.