With most sanitary napkins tagging themselves as "cotton pads", we have all got into believing that's what they constitute. But with the growing awareness of annual menstrual waste (amounting to an estimated 113,000 tonnes!) and the fact that these pads contain plastic components and super absorbent polymers that take over 500 years to decompose, it's needless to say that just "convenience" is not a good enough reason to turn a blind eye to environmental damages. As alternatives to plastic sanitary pads, what's now upcoming are sustainable menstrual cups, which are not just eco-friendly but convenient and efficient during menstruation. But are they safe to use?
Commonly Asked Questions About Menstrual Cups
We bring you the answers to some commonly asked questions.
1. What are menstrual cups? How do they work?
Vikas Bagaria, founder of Pee Safe says, "Menstrual cups are a menstruation product made of medical-grade silicone and safe to be inserted into the vagina. They work by collecting menstrual blood and can last for about 5 to 6 years. Since they are reusable, they contribute to lesser waste and make for a better financial choice for women in areas where sanitary pads may not be as affordable. They do not absorb anything and therefore do not pose a threat to women's health as well."
Komal Anand, brand marketing and communications head at WOW Skin Science says, "A menstrual cup is a bell-shaped feminine hygiene product used to control menstrual flow. It is an alternative to sanitary napkins and tampons and is considered an eco-friendly option for managing your periods. It is reusable and there is no issue of daily discards. While tampons and pads absorb menstrual fluid, the menstrual cup collects it. This can be easily discarded by draining and washing the cup."
Also read: On Menstrual Hygiene Day, 7 Period Picks Which Aren't Your Ordinary Sanitary Pads
2. Do you need to worry about staining while using menstrual cups?
Komal Anand says, "Using a menstrual cup allows you to participate in more rigorous activities that are generally avoided when one is using a sanitary napkin or a tampon. This is because there are less chances of leakage and accidents when the cup is worn right. Besides, the cup collects a lot more than a sanitary pad or tampon, so you are worry free for longer. In fact, depending on your flow, the cup can be used anywhere between 8 to 12 hours. It is safe to be used at night and is especially good if you have heavy flow and fear leakage at night."
3. Are menstrual cups safe to use?
Dr. Aruna Kalra, gynaecologist and obstetrician at CK Birla Hospital, Gurugram says, "Menstrual Cups are usually safe to use until they are inserted properly. It is very important to insert a menstrual cup, of a right size, in a right manner to prevent any issue. To use them, one must fold the cup and insert it into the vagina in the way that when they open, they form a seal against the walls of the vagina. If it is inserted in a proper way (as directed), then risk for side effects is minimal. Remember to use them with clean hands or it could cause infections. Infections can also be caused if the menstrual cups are not cleaned properly before re-insertion."
4. Is it uncomfortable to wear menstrual cups?
When inserted in the right manner a menstrual cup is quite comfortable to use. You might need to try it out a couple of times to get used to wearing it. After a few uses, you may not even feel its existence.
Vikas Bagaria says, "Like with all other products, it is only a matter of time before one gets used to menstrual cups. They offer women the freedom to move around freely, play sports, and even swim without having to worry about leaks. They are designed to hold more blood than sanitary napkins or tampons."
Also read: Say No To Plastic. Switch To Biodegradable Sanitary Pads Right Away
5. What are menstrual cups made of? How do you select the right size?
Komal Anand of WOW Skin Science says, "There are varieties of menstrual cups. Most popular cups today are made of medical grade silicone or latex. These are eco-friendly and long lasting. A menstrual cup sits lower in the vagina than a tampon, so it is safer to use. It is gentler on the skin and does not cause dryness or irritation. Menstrual cups are available in different sizes based on your age, flow, and birthing status."
"You can get a sense of discomfort if the cup is too large or not sitting properly. If you wear a size that's small, there are chances of leakage or the cup sliding down. So, you might have to try out a few to finally settle on the right one."
5. How long can they hold the flow? When do you change?
Vikas Bagaria of Pee Safe says, "There are different sizes of menstrual cups that can collect and prevent leakage even on heavy flow days and can be worn for up to 12 hours straight depending on the flow. While women can bleed about 20 ml a day during menstruation, as with any other period products - it is important to keep a check every 6 to 8 hours, depending on one's flow."
6. How often should one clean them and what is the process?
Vikas Bagaria says, "Menstrual cups must be removed every 8 to 12 hours, cleaned and re-inserted. This depends on the flow. They should be sterilised before every use, emptied as frequently as required, and stored hygienically after use."
Komal Anand says, "Once your periods are over, wash your menstrual cup with a mild soap and dry it thoroughly. Then store your cup in the breathable cotton pouch provided. Avoid putting it in an airtight container. Your storage pouch should ensure easy airflow to keep the cup fresh."
Also read: Menstrual Hygiene Day 2020: Busting Common Myths About Menstrual Cups
7. Can menstrual cups obstruct your uterus' health and hygiene in the long run?
Dr. Aruna Kalra says, "Menstrual cups are pretty safe to use just like the traditional sanitary pads and tampons. It is very important to follow a few basic points:
A menstrual cup should be of the right size.

It should be sterilised every month, before and after use.

Always wash hands before inserting a menstrual cup into the vagina.

Menstrual cups should be emptied after every 4-12 hours.

If one is experiencing a heavy flow, then it is advised to empty them more frequently.

As all the menstrual fluid gets collected in the cup, it is necessary to wash them properly with clean water."
8. How are menstrual cups different pre and post birth?
Dr. Aruna Kalra says, "Post giving birth, the vagina takes time to heal, varying from person to person. One should consult a doctor before using a menstrual cup post birth. Also, it may be likely that one will have to switch to another size for a comfortable fit."
9. How do you wear a menstrual cup?
Komal Anand says, "Before using your menstrual cup for the first time, rinse, sanitise and dry the cup. Before wearing it every time, wet the cup to enable easy and smooth insertion. You need to fold the cup vertically into a 'C' shape by flattening the two sides and then folding the cup onto itself. Relax and squat and then gently insert the cup into the vagina at an angle towards your spine. Stop inserting the cup, once the stem is in line with the vaginal opening. Now release and twist the cup so that it opens and sits securely in place."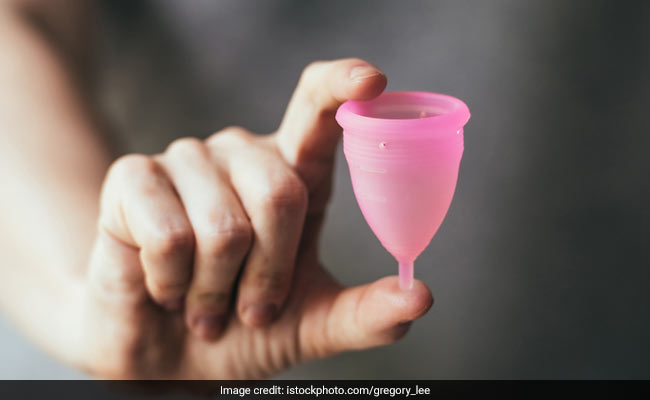 "Perfectly placed cup should form a seal inside the vagina. Wash your hands. To remove it, pull the stem gently and pinch the base to release the seal and pull out the cup. Drain the fluid and wash your cup before wearing it. The cup must be cleaned and washed before every use. Once your cycle is over, sterilise the cup in boiling water before storing."
Comments
We hope these answers by the experts have cleared your doubts on menstrual cups.