Whether you are a travel enthusiast or love being a party host, the right speaker is a necessity for such needs and with technology taking over, we have so many options to choose from. If you are someone who believes in smart solutions to make your home a better place, then we have the right thing for you. Alexa enabled Bluetooth speakers are the perfect solution for all. They guarantee a hassle-free music session without the limitation of external plugins and wires and the built in Alexa feature makes it worth using. And to help you pick the best one, we have curated a list of Alexa enabled Bluetooth speakers for you. With the Amazon Great Indian Festival, we are all set to get our hands on the best speakers from top brands which are offering amazing discounts and deals.
We Have Handpicked Alexa Enabled Bluetooth Speakers For You
Get your hands on these amazing speakers right away.
Featuring a sleek cylindrical style and design, this stunning deep blue Bluetooth speaker delivers a powerful 14W stereo sound for a complete immersive experience and stone 1200 provides a battery time of up to 9 hours without its RGB LEDs and up to 7 hours with a charging time of 4 hours. They have a compact and portable design that makes it easy for you to carry it everywhere. Its 360-degree ergonomic design makes it ideal to be carried around anywhere you go.
(
1,327 ratings & 5,758 reviews
)
Featuring a stunning compact and portable design, this speaker comes in a beautiful black shade and can fill any room with impressive wall-to-wall stereo sound from a single speaker. It comes with a custom-designed eight-microphone array that hears you over loud music or across the room. Now make your music listening experience hassle free with this amazing Bluetooth speaker.
(
152 ratings & 246 reviews
)
No matter where you are travelling to, this speaker will always come handy because of its stunning and sleek style. This is a portable Alexa built-in smart speaker and can enjoy immersive audio up to 6 hours on a single charge and 12 hours of standby time. You can also add Alexa built-in devices like smart bulbs or any other devices. It comes with 2600mAh battery.
S small and portable speaker is what we all want and this one is a perfect pick for our entertainment purposes. It can be operated by voice - even from a distance. Alexa can speak both English and Hindi and new features are added automatically. It can be placed in any room as per your wish and is a perfect solution for a smart home or smarter experiences.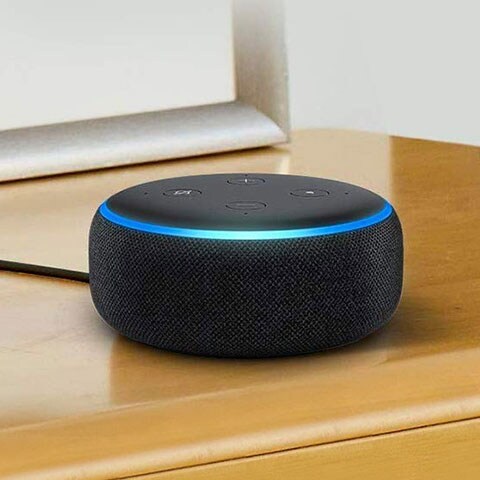 (
20K+ ratings & 75K+ reviews
)
Featuring a compact and portable design, this Bluetooth speaker delivers rich, clear and loud sound and you can also experience absolute 360 degree sound where every spot is a sweet spot. The emberton offers 20+ hours of portable playtime on a single charge. It is tough and resilient, boasting an extremely durable and easy to use design that features an IPX7 water-resistance rating. It is super simple to use and carry and you can control it with the multi-directional control knob.
(
755 ratings & 2,287 reviews
)
Featuring a compact black design, the speaker comes with battery life of up to 16 hours for long listening hours and has extra bass. A passive radiator works with the mono speaker to enhance low-end tones, giving bass a boost despite the compact size. It is waterproof, dustproof and is super easy to use. It comes with a built-in mic for hands free calling and also has detachable strap for easy usage.
Featuring a stunning white shade, this speaker is a powerful smart speaker with voice control built-in. It has brilliant sound and you can control it with your voice. It comes with Amazon Alexa built right in so you can play music, check news, set alarms, get your questions answered, and more, completely hands free. The compact design fits just about any space.
(
667 ratings & 3,424 reviews
)
Featuring a sleek and stunning design, this Bluetooth speaker is a sturdy well engineered portable speaker with a dynamic LED light wall to sync with your music. You can now start your party anytime, anywhere. It is super compact and portable, which makes it easy for you to take it everywhere. It comes with power packed 16W HD quality stereo sound with enhanced bass.
To browse more speakers, click here.
Comments
Disclaimer: The Swirlster Picks team writes about stuff we think you'll like. Swirlster has affiliate partnerships, so we get a share of the revenue from your purchase.