Summer time isn't only when the vacation bug bites; it is also blockbuster season in movie theatres. Plenty of movies are lined up for a summer release and Ocean's 8 is one of the most popular in 2018. Building the excitement for it were a few of the female star cast, who made an appearance at CinemaCon 2018 in Las Vegas and got us talking.
As if seeing the A-listers together onstage wasn't incredible enough; while they were at it, they managed to set the style meter soaring. Present at the event was Sarah Paulson, Mindy Kaling, Sandra Bullock, Cate Blanchett, Anne Hathaway and Awkwafina who all seemed to colour co-ordinate in shades of white, black and gold.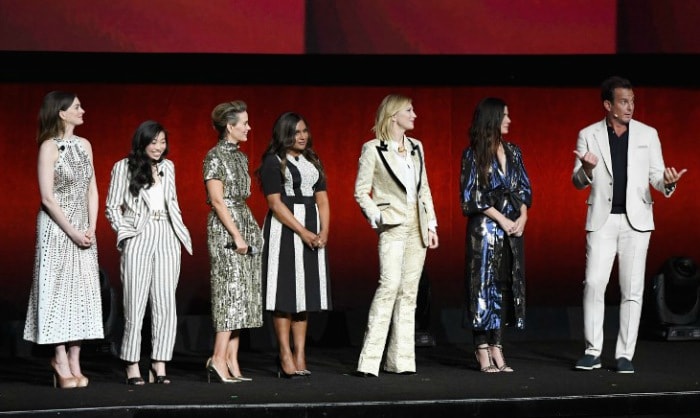 The shiniest of the lot, Sarah wore a glittering Alberta Ferretti blouse and midi skirt set with matching metallic pumps and her hair pulled back. With her hair in large waves, Mindy wore a black and white paneled dress with embellished pumps. Sandra opted for a printed Johanna Ortiz creation which is tied at the waist with trousers and stilettos. Cate looked like she meant business in a crisp gold and white pantsuit with a black trim. Anne wore a white and gold Bottega Veneta gown with peep toe shoes. Awkwafina finished off the stylish line-up of ladies with a relaxed striped Topshop suit and black heels.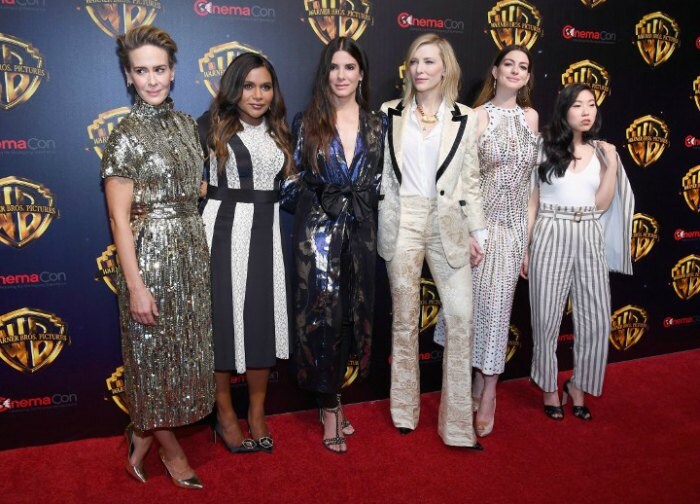 Their appearance of the female cast rubbing shoulders at the event made an immediate impact on the style charts and fueled talk around the movie as well. The female-led Ocean's 8 revolves around Debbie Ocean (estranged sister of Danny Ocean, i.e. George Clooney from the Ocean trilogy) and her gang of girls who set up a heist to rob the Met at the time of the gala. The cast doesn't just include the women seen on the red carpet but will also see many others including Rihanna, Helena Bonham Carter, James Corden and even a few Kardashians. Ocean's 8 will release on June 9th in USA.
Comments
With looks this good and a stylish show of girl power like that, it's safe to say that we're counting the days for it to make its way to Indian shores.