With cooler gadgets in the market these days, you cannot just sit still and not give an upgrade to your home electronics and appliances. Starting with television, which most often holds centre stage in our home. TVs have been getting a serious upgrade, making a long journey from black and white versions to today's ultra high quality display, sleek designs, quality sound, wi-fi connectivity, voice control assist and much more. So if you have been stuck to old time LCDs and LEDs, you need to opt for a smart TV that will make your viewing experience all the more better and easier.
Swirlster Picks Top Televisions For You
To help you upgrade your TV, we have listed down nine cool smart TVs from Amazon that are available for huge discounts. Have a look:
1. Samsung Smart TV

Experience superior picture and sound quality created for Indian viewers in 4K resolution. Superior sleek TV enhances the look of your living room. With a Smart TV, watch videos, play music, or view photos through a USB connection, Internet or via your phone.
(
718 ratings & 1,293 reviews
)
(Also Read: 7 Best Home Theatres To Pick From Amazon)
2. LG Smart LED TV

New LG 4K smart TV comes loaded with amazing features and stunning picture quality through 4K active HDR. It is lightweight and has a metallic design. Key features include: 4K IPS display, wide viewing angle, Apple Air Play2, DTS Virtual: X, 20w sound, 4K upscaler, Web OS, AI Launcher home dashboard, magic mobile connection, Quad Core Processor, cloud photo and video and 2 way Bluetooth audio playback.
(
900 ratings & 1,544 reviews
)
3. Oneplus Android QLED TV

It comes with a 4K ultra HD resolution with QLED display. It has Dolby Atmos sound system with 2 speakers and 2 sub-woofers. These smart TV features built-In Wifi, Google assistant, Oxygen OS with Android Pie (9), 3GB RAM and 16 GB storage.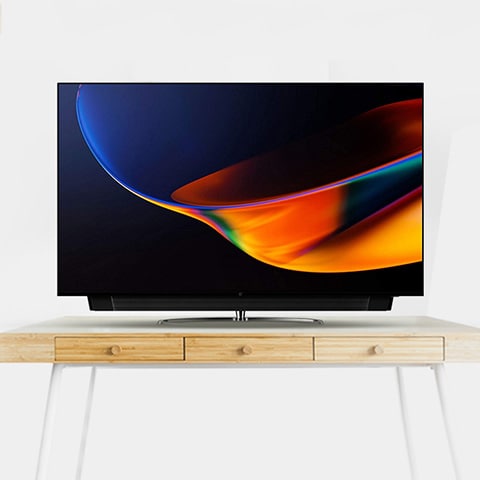 (
1,478 ratings & 2,339 reviews
)
4. Mi Smart LED TV

Convert your living room into your own personal little theatre with this smart and feature-filled 55 inch Ultra HD TV from Mi. Featuring 10-bit panel with HDR10 support, your movie-watching experience will be taken to the next level.
(
3,150 ratings & 6,163 reviews
)
5. Sony Bravia HD LED TV

See sharper and more defined textures of your images with Full HD resolution. This TV has a full HD resolution with clear resolution enhancer. It comes with one year standard warranty against manufacturing defect.
(
83 ratings & 116 reviews
)
6. Panasonic Led Smart TV

The IPS LED enhances the picture quality which gives you a new experience. 'Swipe And Share' lets you 'throw' content from your smart devices to the TV Screen by swiping your fingers along your portable devices. There is a specially designed box speaker to deliver more powerful sound.
(
47 ratings & 52 reviews
)
7. Haier HD LED TV

Enjoy thousands of movies, videos and music on the stunning full HD and get access to content through USB Play. It has full HD resolution and a surround sound system. It comes with a three year warranty period.
(
85 ratings & 169 reviews
)
8. Micromax Smart Android Tv

This 40" High Definition Smart Google Certified D-LED TV has a resolution of 1920x1080 pixels. The smart TV features include official Android Pie 9.0, Google play store, Google eco-system (Movie, TV, Music, Games), Chromecast built in and Bluetooth 5.0.
9. TCL Smart LED TV

Powered by TCL AI technology Android 9.0 OS, the all new P8 4K UHD TV gives you cutting edge intelligent functions and a range of entertainment options with certified Netflix and YouTube. The HDR features provide you HDR standard with more clarity and picture detail. It comes with a 18 months warranty against manufacturing defect.
(
712 ratings & 1,194 reviews
)
To browse more similar products on amazon, click here
(Also Read: 9 Best Coffee Makers From Amazon For All Budgets)