Be it when travelling or just lounging at home, we just want to enjoy our time surrounded by music. But what if your phone speakers do not deliver the quality of sound desired? With new technology and designs, Bluetooth speakers guarantee a hassle-free music session without the limitation of external plugins and wires. Just connect your device and get yourself mesmerised by the music. Not only do they serve the functional purpose, but their compact designs and easy portability also add an extra edge. What's best is that Amazon is offering up to 70% off on these wireless Bluetooth speakers that will take the experience of sound quality to a whole new level.
Choose These handy and portable Bluetooth Speakers Up To 70% Off
Get your hands on these cool bluetooth speakers and sail through your day with music by your side.
1. Mivi Roam 2 Wireless Bluetooth Speaker
This is a small, portable speaker designed to deliver loud and clear music. The waterproof speaker is small in size yet big on bass and gives you a whopping 24 hours of playtime.
2. JBL Waterproof Bluetooth PartyBoost Speaker
With 12 hours playtime and being waterproof, you can enjoy music in rain or even at your pool party. These speakers allow you to pair two JBL PartyBoost-compatible speakers together for stereo sound or link multiple JBL PartyBoost-compatible speakers to amp up your party.
(
3,186 ratings & 16K+ reviews
)
3. HP 400 Bluetooth Speaker
Enjoy rich stereo sound with these bluetooth speakers. The rechargeable lithium battery gives you up to 8 hours of uninterrupted playtime. With easy Bluetooth connectivity and a long-lasting battery, you can enjoy high-quality audio, no matter where the music takes you.
(
373 ratings & 555 reviews
)
4. Sony Wireless Extra Bass Bluetooth Speaker
Compact yet powerful, this one can last up to 16 hours of play time. It's also waterproof and dust-proof to give bass a boost despite any conditions. These speakers are made to go with you anywhere and it also had a detachable strap through which you can easily hang it up and keep your music going on the move.
5. Portronics SoundDrum Bluetooth Speaker
With its stylish, sleek black looks, this premium Bluetooth speaker is cylinder-shaped, so that your sound reaches all corners of the room. It has in-built stereo speakers with powerful amplifiers. This speaker is water-resistant and can play music for more than 7 hours on a single charge.
(
6,566 ratings & 10K+ reviews
)
6. Modernista Bluetooth Soundbar Speaker
This one delivers excellent clarity and audio response. It produces incredible bass with a unique, space-saving design. With this, you can enjoy up to 4 to 4.5 hours wireless playback.
(
122 ratings & 232 reviews
)
7. Infinity Deep Bass Bluetooth Speaker
This is a pocket-size portable Bluetooth speaker with 5 hours music play time. It also comes equipped with dual equalizer modes for normal and deep bass output.
(
4,831 ratings & 11K+ reviews
)
8. BoAt Stone Bluetooth Speaker
Delivering a playback time of up to 6 hours, these speakers are fully charged in 2.5 hours. They are lightweight, portable and water-resistant and also allow for AUX cable and USB plugin.
(
3,881 ratings & 9,812 reviews
)
9. JBL Wireless Bluetooth Speaker
With five hours of playtime, you can also activate Google Assistant with these speakers. It is also equipped with a convenient noise-cancelling speakerphone, allowing you to pick up calls without turning your speaker off. It's exciting, eye-catching contrast easily complements anyone's style.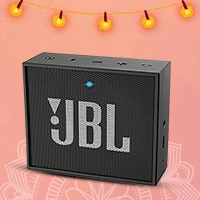 (
32K+ ratings & 50K+ reviews
)
To shop more range of speakers, head to NDTV Shopping.
Comments
Disclaimer: The Swirlster Picks team writes about stuff we think you'll like. Swirlster has affiliate partnerships, so we get a share of the revenue from your purchase.