Who isn't fond of flaunting long and beautiful nails that look attractive and bring in compliments? Nail art is the best way to style your nails and make them look elegant. Having appealing nails can boost your confidence while also help you stay stylish, isn't it? Nail polish alone is a very boring concept whereas nail art has become very popular and is trending worldwide - from influencers to famous celebs sporting gorgeous nails. Nail art is an easy and beguiling way to style your nails. It offers you a large range of patterns to choose from that often match your outfits, mood and lifestyle. Moreover, it makes you take some time out of your stressful life to focus on yourself.
Learn The Tricks Of Nail Art
Nail art is a canvas through which you can express yourself and create stunning patterns to stay stylish. It is not necessary to get it done from a specialised nail parlour as it can be instantly done at home by following some simple procedures. Nail art can be done by taping, sponging, painting with brushes. All you need is variety of nail paints, toothbrush, needle and sponge.
1. Sponge bobbing
You can easily design your nails in an achromatic manner with the help of this technique. Begin with applying a base colour on your nails and let it dry. Meanwhile, apply another shade of nail polish on the sponge and dab it over your nails. You get a gradient finish with a sprinkled affect. You can apply a top coat for a matte or gel finish. By dipping a thin brush in acetone, you can remove the extra edges.
(Also read: 9 Beauty Products To Get A Salon Fresh Nail Art At Home)
2. Taping
Applying a base nail polish is an initial task. Once it dries, cut small pieces of tape and stick it on your nails to create patterns. Fill another shade in the leftover spaces that are visible after the tape application. Later, you can remove the tape slowly and gently to unravel your patterns.
3. Needle design
Apply a base nail paint, let it dry partially and you can apply another stroke of colour in the middle of the nail. Use a needle and move it steadily in a zig-zag manner to create stunning patterns. However, the needle can also be moved in a circular motion. You can also use the same procedure to draw flowers over your nails.
4. Graffiti nails
Tempting for colourful and cool graffiti? It can be achieved by an easy method. Apply a white base on your nail or else you can use any other shade. Apply a nail paint over a toothbrush and sprinkle it haphazardly upon you nail. Repeat this technique with different colours and remove the extra edges with the use of an acetone.
(Also read: Paint The Town Pink With These 8 Must-Have Nail Colours)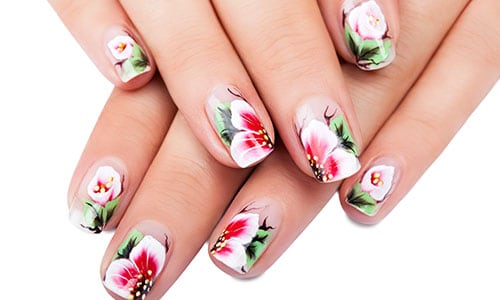 5. Water marble nail art
It is an innovative and funky way to redesign your nails. Take a glass and pour water into it. Drop different colours of nail polish on the water surface and you can use a needle to either create patterns in the water. Lately, you can dip your nails inside the water to deport the pattern onto your nails. Multiple patterns can be created with this technique. Remove the extra nail polish with an acetone.
6. Polka dots
They really look cute and dazzle with all your outfits. Apply your favourite nail polish and draw dots over it using a bobby pin or a thin pointed brush. Use a different nail paint to do the same. Let it dry and add a transparent top coat for a radiant finish.
Comments
Don't frown instead innovate with your nails. Have fun playing with various colours to create astonishing nails without much effort. Fancy and spunky patterns can be explored to impress.