With celebrities making airport fashion a serious style affair, it's little wonder that everyone else seems to be putting in a lot of thought to spruce up one's style game while travelling. But other than ensuring that your outfit is on point, it's also important to pay attention to your skin and hair. Long flights can create havoc if you don't take care of your beauty needs. Other than keeping yourself hydrated by drinking water and other fluids, here are some expert beauty tips to remember:
Easy hairstyles to sport
TIGI Educator Audrey D'Souza shares three hairstyles that are perfect while traveling:
1. Scarfed hair
Head scarves are a simple accessory that make traveling in style almost too easy. The patterns and colours can help brighten up even the worst in-transit blues. Simply tie a pre-stitched hair scarf behind your ears by either back-combing or side parting your hair.
2. Mermaid braids
Get the base right by applying a texturising serum. Part the hair into two and work with volumising mousse for a messy look. Maintain the tempo and take smaller sections using the Dutch braiding technique and secure the end with a black ribbon. Finish the look with a texturising spray.
3. Halfsie Pony
Spritz dry shampoo onto your roots and gather half your hair into a messy ponytail. The half-twist bun for a girl-next-door hairstyle is effortlessly chic.
(Also read: Should You Apply Sunscreen Even In Monsoon? An Expert Advises)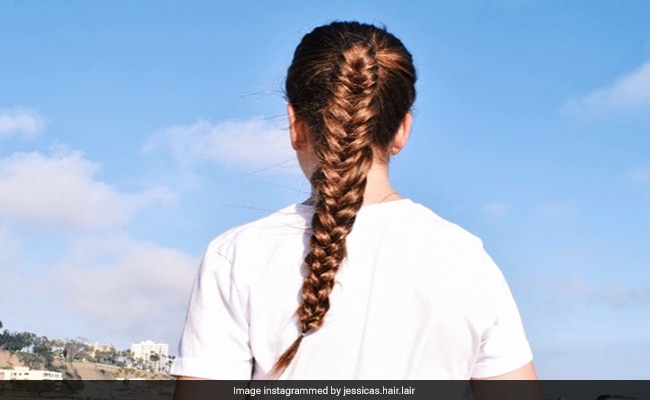 Skincare tips to follow
Rashmi Shetty, Pond's Skin Expert, shares a skincare routine to cope with in-flight cabin air which causes the skin to dry very quickly:
1. Before you get on flight, it's good to apply a light moisturiser that is enriched with Vitamin E or a hydrating gel that is quickly absorbed by the skin to bring about a cooling effect.
2. Once on flight, don't neglect the lips and nails. Use a good cuticle oil and an oil rich lip balm to keep them from getting dry.
3. Use a good skin serum before going to sleep. It should be clinically proven to boost the skin's cellular energy and reduce spots, tighten pores and improve skin quality. The right ingredients make a huge difference. Look for serums with powerful bio-actives (Vitamin B3 and Hexyl Resorcinol) that are known to work wonders.
4. Before stepping out, instead of heavy makeup and foundations, I recommend using a multipurpose product like a good BB cream that almost acts like a one-step solution. It gives coverage, protects skin from sun and is clinically proven to reduce spots, tighten pores and boost skin radiance.
Inputs from IANS