Microwave is an essential home appliance that is used for all necessary purposes, from heating food to baking. It proves to be very useful in modern times as it makes the whole process of reheating food and cooking effortless, saving us time and energy. As functional as it is, most often we forget to clean the microwave properly, which is in fact very crucial for its maintenance. Wondering how to clean microwave correctly? We bring you a step-by-step guide to keep your microwave sparking clean from the inside and out. Take a look.
Steps To Clean A Microwave
Why microwaves are popular is because they prevent burns and eliminate the formation of tars. Heating or frying something over the stove often causes stains on the utensils, which is a painful task that requires time and effort to scrub off so as to make them look clean. Moreover, microwave does not cause tension about switching off the appliance after a particular time since it does so automatically and can be left unattended. It offers numerous advantages and can be used easily by anyone.
But remember, cleaning a microwave is necessary to maintain hygiene. If it is stained by some curry or feels sticky, you should give it a thorough clean. Cleaning a microwave is really an easy task which won't take much time. It can be instantly cleaned with the help of a few ingredients that are available in your kitchen itself.
(Also read: Amazon Sale: Grab These 8 Best Microwave Ovens For Great Deals)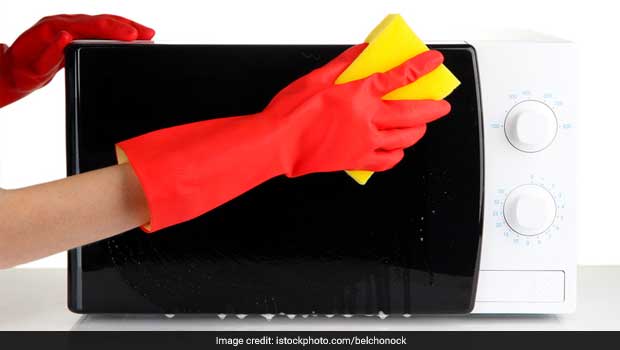 The steps to be followed while cleaning a microwave are:
Step 1: Pour 1 cup of water into a microwave safe bowl. Add 2-3 citrus slices of else you can add 1 tablespoon vinegar. You can add both if your microwave is extremely dirty.
Step 2: Add 1 tablespoon of baking soda into the solution so as to remove the stinking smell. Baking soda is a natural deodoriser that will vanish the undesirable smell.
Step 3: Keep a wooden skewer or spoon in your bowl so that it prevents the liquid from getting superheated. It will disable the risk of bursting the bowl during the process of heating.
Step 4: Microwave the solution for 5 minutes on high heat and let it boil. The steam produced from it will enable you to clean it properly.
Step 5: Once it's done, wait for another 5 to 10 minutes so that the steam can melt the grime. Don't rush into things.
Step 6: Carefully remove the bowl and the turntable using a mitt from your microwave. Wash the turntable thoroughly with soapy water and keep it aside. You can also soak the it in soapy water if it's too greasy.
Step 7: Use a cloth or a sponge to remove stains from the interior of your microwave. Rub the door, bottom, top and sides properly. For harsh stains, dip the cloth into the solution you made earlier and then clean it.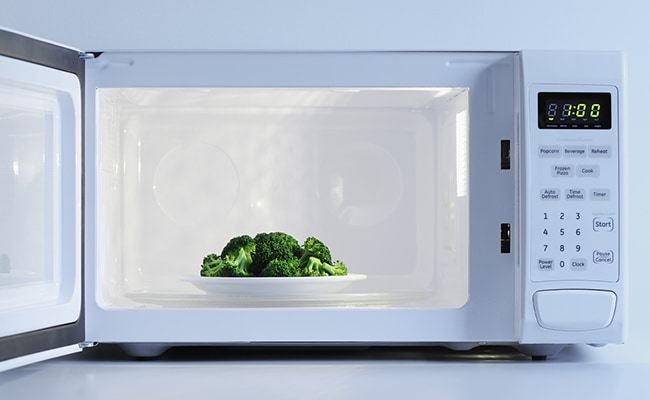 Step 8: After scrubbing the interior, use a cloth to wipe all the sides so as to dry it. Now, you can place the turntable inside your microwave.
Step 9: Soak a cloth in soapy water and wring it. Use the cloth to wipe the outside panel and the top of the microwave. Use the same cloth for the sides as well.
Step 10: Use a clean damp cloth to remove the soap residue. You can use hot or warn water for dampening the cloth and wring thr excess water.
Step 11: Rub a dry cloth over the exterior to absorb moisture and make it looked as good as new.
Comments
You can also use acetone to remove stains as an alternative in case you don't have vinegar. Else you can use a disinfectant to clean or a solution of vinegar and baking soda, which should be consistent. Microwave is an important equipment that is used daily. It is essential to keep it clean so that it won't lose its shine and lustre. Ensure to repeat this method over a short period of time. It will work efficiently without causing any damage.