Eating healthy foods and salads are synonymous for most of the people. With the outbreak of COVID-19, most of us have become house chefs and are trying out our favourite junk foods at home instead of reaching out for a bowl of salad. At present, there is dearth of information about the survival of the COVID-19 (coronavirus) on the surface of open food. Work with similar viruses has shown that some food surfaces don't allow the virus to survive at all, but some do. Therefore, it is very important that we maintain good hygiene practices around open food (e.g. fruits, vegetables, unpackaged bread, cakes, salad bars etc.) so that the risk of contamination of food is lowered.
Should We Be Eating Raw Foods?
Now the main question is should we be eating raw foods, like fruit, vegetables and salads?
Yes, you can consume it. Just make sure that you wash your hands properly before handling any food, and then wash the fruits and vegetables thoroughly before consuming them.
Here are few recommendations that you can follow to reduce the risk of contamination whilst handling raw food products:
1. Precautions to be taken when purchasing food
Here are points to keep in mind before you leave house for shopping:
Go out for grocery shopping only when necessary.

Prepare a shopping list in advance and buy as many items as possible at one store.

Carry your own shopping bag/basket.

Shop during non peak hours, selecting less crowded shops.

Keep all the shopped items separately.

Maintain a separate set of clothes and footwear for going out and change immediately after returning.
Also read: Add These 7 Healthy And Nutritious Fruits To Your Summer Diet This Season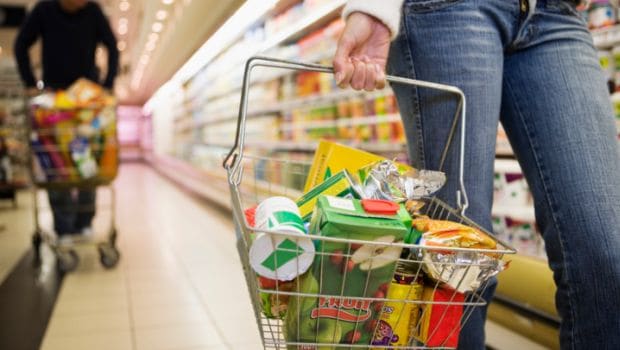 2. Points to remember while in the store
Maintain social distancing.

Only touch products /items that you intend to purchase.

Avoid touching common touch points.

Don't touch your mouth, eyes and nose at any point of time.

Disinfect the handles of the cart or basket before using it.
3. Steps to follow once you reach home
First, leave your shoes outside before entering the house.

Keep shopping bags in an isolated or segregated place.

Wash your hands for at least 20 seconds with soap and warm water.

Take bath and change clothes.

Remove the food from the shopping bags and keep them away.

Do not place vegetables brought from outside, straight on the kitchen counter.

Wash your hands again with soap and water after handling the food packages.

If you were wearing gloves, when you were handling/ buying vegetables and fruits. Make sure you dispose off these gloves before entering your home.
Also read: 5 Cleaning Tips To Keep Your Kitchen Safe Amid Coronavirus Scare
4. Precautions to be taken while handling fruit and vegetables
Remember these points when using raw food:
Wash raw vegetables and fruits thoroughly under running water before eating, cutting, or cooking it, whether it's grown at home or purchased from a grocery store or farmers market, and whether it's grown conventionally or organically.

If you are using soap and water to clean the raw vegetables, make sure that the remnants of the soap on the surface is also cleaned well. It is difficult to wash off such stains and soap particles. Soap stains are often visible on plates, even after you wash them. The same stands true for vegetables. In fact, it is more difficult to remove soap from the surface of vegetables.

Vegetables such as broccoli, lettuce, and leafy kale should be rinsed under cold water just before you intend to eat them. However, don't wash berries before putting them in the fridge, because that will increase moisture and accelerate growth of spoilage bacteria and molds.

If there are vegetables that cannot be washed as soon as you bring it in, try to keep it in a closed space and do not cook or consume within three to four hours.
It is important to note that most fresh produce is eaten uncooked. This is where proper food safety handling comes into play. To lessen your chance for contracting with the illness, it is important that you not only wash fresh produce before preparing or eating it, but you should also wash your hands for at least 20 seconds with soap and warm water before and after preparation.
About the author: Dietitian Garima is a certified nutritionist and was a part of Monash University for IBS Dietitian Course. With a Master's degree in Food and Nutrition, she aspires to change people's perspectives towards the word 'disease' and impact as many people in a positive and healthy way as possible.
Comments
Disclaimer: The opinions expressed within this article are the personal opinions of the author. NDTV is not responsible for the accuracy, completeness, suitability, or validity of any information on this article. All information is provided on an as-is basis. The information, facts or opinions appearing in the article do not reflect the views of NDTV and NDTV does not assume any responsibility or liability for the same.