Sridevi is one of the most beautiful women in Bollywood and keeps proving to us that age is just a number when it comes to style. A woman in her 50s can be as fashionable as ever. With her impeccable taste of clothes, she gives all us young women a run for our money, but after Sridevi's fiasco at the the bash the Ambani's threw for London's mayor, Sadiq Khan, we were a little taken aback. Sridevi's denim on denim look just reminded us of the horribly gone wrong denim on denim outfits that Justin Timberlake and Britney Spears wore in '02. To avoid this fashion faux pas, there are a few pointers that you need to keep in mind.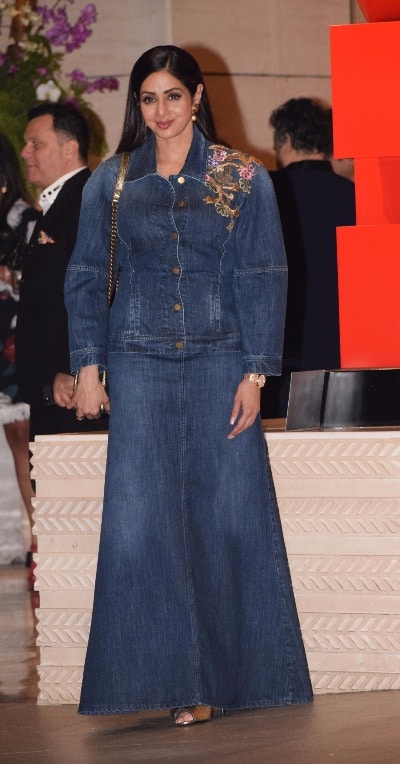 We might forgive Sridevi for the disaster as she quickly sprung back and looked stunning - just what we love about Sridevi. This time around, she was a chief guest for the 7th International Patient Safety Conference that took place in Mumbai.
For the evening, she chose a royal blue saree by none other than Sabyasachi and girls, did she look fabulous. Her saree was just right for the event. Her makeup, jewellery and hair, was as perfect as ever - we can't seem to find anything wrong with what she wore and how she looked, so she's back to our #womancrushwednesday list.
A royal blue matka silk saree with hand embroidered booties and a border with a matching blouse is giving us all the feels. This kind of saree is just perfect for the wedding season, ladies. You can even add a belt on top of it and take it a notch higher.
Her makeup was kept minimal with long eyelashes and a pink lip. Her hair tied neatly into a bun and her jewellery is what dreams are made of. Uncut diamond earrings and a ring, both by the Sabyasachi jewellery collection. Absolutely stunning and so apt for the event.
Sridevi, just stick to you being you and we'll always be crushing on you, for sure. And girls, this is for you too. Just be yourself, stick to your roots and see how you shine.