And another 'India's daughter' is born. A country that in recent times has needed no particular reason to come together to abuse or criticise a chosen few is for once rejoicing. After all, 17 years is a long time. Our currency has new shades, the definition of those defying "nationalism" is even more colourful and Priyanka Chopra has presented at the Oscars. The win by 20- year old Manushi Chhillar had politicians congratulating the Haryana girl fastest fingers first on Twitter. For a state that only recently managed to dilute its image of honour killing and female infanticide by giving us champion wrestlers, this win is now being predictably capitalised politically. "Beti Padhao, Beti Bachao" began three years ago, yet, in some new version of back to the future, a state minister has credited it for the unsuspecting winner's success.
The Prime Minister who has been silent on the health emergency as areas of North India were shrouded in smog in the last couple of weeks proved many of us right. By immediately tweeting his congratulations, he demonstrated that as the head of the country, even pleas of young children against the shaving off of years of their lives by breathing an acrid air more than 10 times acceptable limits cannot sway him, if he doesn't want it to.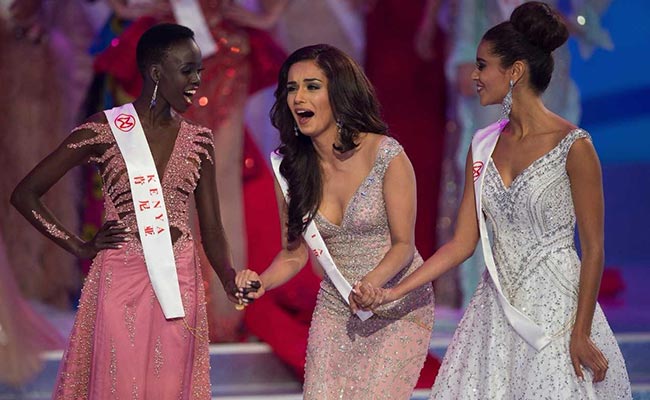 BJP president Amit Shah was not far behind, lovingly calling Chhillar "daughter of India", but such is the nature of our selective praise that one daughter today is more equal than the other. Actress Deepika Padukone has been threatened with physical harm in the last few days for portraying a role in a movie that no one can say is anything but fictional, yet, it's a sign of our times that we continue to empower our fringe by looking away as they threaten violence even to women. The Karni Sena says that while it has never raised its hand against a woman, if need be, it will do to Deepika what Lakshman did to Shrupnakha for violating the culture of India. The irony is lost because this is the new norm, to simply look away when things get uncomfortable.
Barring Shabana Azmi and Deepika herself, who has questioned how long people like these will be allowed to get away, there is an easy calm. It would be foolish of us to expect Bollywood to take a stand on anything when it can't even defend its own. Anupam Kher who is so vocal on lessons on patriotism is also silent; his teaching, it seems, don't extend to respecting women. The only politician who spoke was Subramanian Swamy, but it would have been preferable if he hadn't. Social media seems to have almost convinced him that the actress is Dutch, thereby losing any moral right to question the protests against Padmavati. For the initiated, the actress was born in Copenhagen and her father, the legendary Prakash Padukone, was one of the first to fill us with real patriotic pride when the tricolor was raised after his victory at the All England Championships.
So the Miss World crown has fallen into our lap and filled our collective chests with pride. Away from any controversy or politics, this young lady has won our hearts in the way of out cultural imperialism of the 90s, a time when liberalisation coincided with India winning as many titles as there were beauty queens. Those days, we could do or say no wrong even when Priyanka Chopra in the year 2000 replied that Mother Teresa was the most successful woman living. Mother Teresa had passed away three years earlier but the pageant in London was reportedly sponsored by an Indian network which is why Mother had to be invoked, I assume.
Perhaps by then our answers on world peace, compassion and helping the downtrodden had started becoming stale or maybe the market for those had already been tapped. Beauty, fashion and cosmetics had become a household name far removed from the days of the solitary Ponds' cream advertisements that tried to sizzle over our television screens.
Slowly, just like in the West, even for us, the beauty with brains novelty wore off and celebrating beauty queens receded as a national hobby. Yet, behind the scenes, it remains an instant path to stardom. There are horror stories, cut throat competition but those remain hearsay. It is understood once a beauty queen, next a Bollywood star (the promise to change the world disappears even faster than the first movie is signed). Only the first winner, Reita Faria, bucked the trend, refusing Bollywood offers and going on to becoming a doctor.
Indian and Venezuela have 6 winners each but in the South American country this is an industry that expects results. Just like in China, girls barely in their teens are pursuing the beauty crown ambition. Venezuela, where almost every woman is believed to have got at least one body job, has co-incidentally also seen a massive boom in the plastic surgery business, even banks offer loans for such surgeries and perhaps their most telling slogan is "have your plastic on our plastic"!
Cosmetic beauty though has also been an intrinsic part of our culture, we have been perpetuating the stereotype for decades with advertisements of fairness creams on the front pages of many newspapers. We will probably see more of these now because Manushi's win doesn't make us uncomfortable, the new Miss World in keeping with past trends is likely to keep it diplomatic and not question the direction our nation is taking like Deepika Padukone has recently.
So, let's also treat it for what it is. A beauty pageant nothing more, nothing less.
(Jyotsna Mohan Bhargava worked with NDTV for more than a decade and now writes on a variety of topics for several news organisations.)
Comments
Disclaimer: The opinions expressed within this article are the personal opinions of the author. The facts and opinions appearing in the article do not reflect the views of NDTV and NDTV does not assume any responsibility or liability for the same.